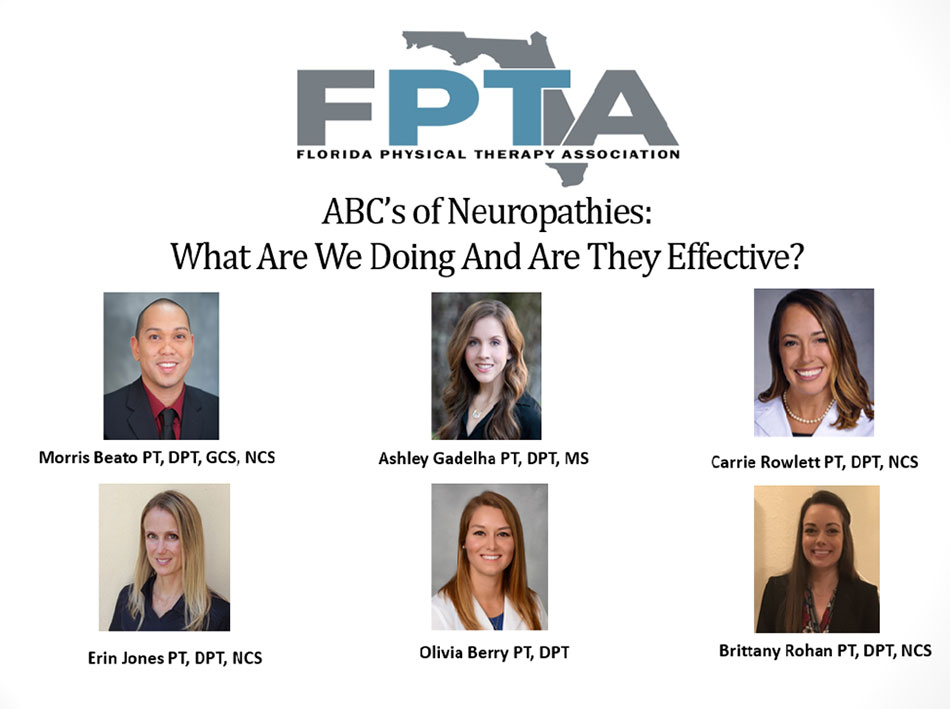 Faculty from the UCF and Orlando Health neurologic residency, as well as current and previous residents, presented on the topic of neuropathy at the Florida Physical Therapy Association's Annual Conference and Assembly of Representatives held on April 11, 2021.
The virtual session, "ABC's of Neuropathies: What Are We Doing and Are They Effective?" explored the effectiveness of physical therapy interventions on the different types of neuropathies, from genetic to infectious origin.
Current resident, Ashely Gadelha, presented on Guillain-Barre Syndrome, while previous residents Olivia Berry and Brittany Rohan presented on traumatic nerve injuries and diabetic neuropathy respectively. Residency coordinator Erin Jones presented on nerve anatomy and genetic neuropathies while residency director Morris "Rick" Beato presented on Covid-19 and Lyme disease neuropathies. Carrie Rowlett of Orlando Health Advance ORMC Institute for Advanced Rehabilitation, a UCF DPT alumna, presented on paraneoplastic neuropathies.
Thank you to all our residency faculty and alumni for coming together to educate on these important topics!