Four students from the health sciences program have been named to the Class of 2022 Order of Pegasus. This award is the highest honor that a UCF Knight can achieve, and reflects exemplary academic achievement, community engagement, leadership and professionalism.
Austin Eason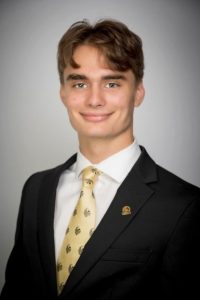 Austin Eason is a senior in the pre-clinical track within the health sciences program. He is involved in a wide range of opportunities that the program offers for students, including serving as a teaching assistant for biology, organic chemistry and medical biochemistry. He has also served as a peer mentor with the Multicultural Academic and Support Services office as well as the Division of Student Learning and Academic Success. Eason has dedicated much of his time to research in the UCF Burnett School of Biomedical Sciences, UCF NanoScience Technology Center and AdventHealth's Translational Research Institute. "These opportunities have given me a wide range of experiences working with students across various majors, backgrounds, and interests," Eason said.
Access to faculty within the health sciences program has allowed Eason to connect with mentors that have been instrumental in his success at UCF. "Professor Valerie Schulz from clinical nutrition and from human anatomy have both been fantastic mentors during my undergraduate years," Eason said.
After he graduates from UCF this semester, Eason will be attending the University of Florida for medical school in the fall to become a physician, with a focus on pediatrics. "During my undergraduate experience, I've had the opportunity to volunteer and work with children in clinical and non-clinical settings and would love to continue that during my career," Eason said.
Jacey Koo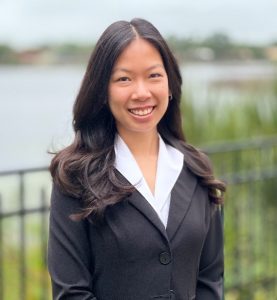 Jacey Koo is a senior int the pre-clinical track and also a student within the Burnett Honors College. Koo has dedicated much of her time to serve her community. She is involved in philanthropic activities such as caring for homeless infants at the Orlando Union Rescue Mission, ushering at the Dr. Phillips Center and conducting research at the Institute for Simulation and Training, as well as taking various leadership roles on campus.
"I am so grateful for the honor of being inducted into this year's class for the Order of Pegasus," Koo said. "I like to remind myself of the many things in life that do not come without some amount of sacrifice, so it means a lot to me that the hard work that I have put into my academic and professional careers has paid off."
She loves being a student within the health sciences program because she can take classes that have real-life applications as well as share her undergraduate adventures with peers who, despite having different career paths and goals, will all use the same degree to pursue their own passions in the world of health. Koo says she is grateful for her supportive professors that made being named to the Order of Pegasus possible for her. In particular, she is very grateful for Dr. Odahowski and her unwavering support and kindness in this journey.
"Over the past several years, UCF has been my home away from home," Koo said. "It has allowed every one of my goals to become attainable through the community of mentors, friends and family at this campus who have helped to make that possible."
Koo is currently applying to medical schools with the long-term goal of becoming a physician. As a future doctor, she aspires to serve those from all walks of life using her combined love for discovery and creativity.
Stephanie Oliveira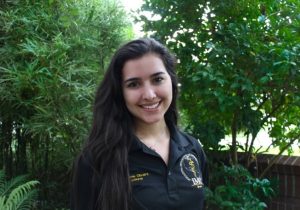 Stephanie Oliveira is a senior in the pre-clinical track within the health sciences program and is also earning a minor in medical sociology.
Oliveira has been a member of International Medical Outreach (IMO) for four years. IMO, a student-led nonprofit organization that specializes in medical service in impoverished areas around the world, fueled Oliveira's passion to become a medical physician and serve as a strong advocate for underserved communities. "In my junior year, I was appointed to be Presidential Advisor, in which I managed weekly medical and non-medical service events to benefit our local and global communities," Oliveira said. "By partnering with nonprofits such as Up Orlando and Feeding America, I learned that our most impactful events were those that mobilized our community and leveraged the power of collaboration." She has served in Peru and will be leading a trip to Brazil. Even after graduation, Oliveira will continue to reduce barriers and promote healthcare for all.
Oliveira also serves as a research assistant within the Honors Undergraduate Thesis Program. Combining her interests in athletics and medicine, Oliveira examined the function and significance of blood-based biomarkers to improve evaluation of sports-related traumatic brain injuries. In her role as a biology teaching assistant and peer mentor, she was able to use her knowledge and experiences to assist fellow Knights.
Oliveira credits UCF for much of her success. "UCF has opened many doors and provided me numerous opportunities to excel both individually and professionally," she said. "This university nurtured my medical ambitions and fostered my desire to serve as a leader in underserved communities while also further igniting my altruistic spirit for medical sustainability and equity."
Oliveira will be taking a growth year after she graduates to acquire additional knowledge and skills before attending medical school. During this time, she plans to continue her exposure in the medical field as a medical assistant and volunteer.
Victoria Orindas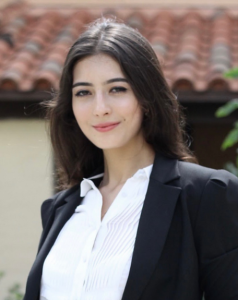 Victoria Orindas is a first-generation health sciences student with aspirations of becoming a medical doctor. Her experiences during her time as an undergraduate in the health sciences program drove her toward geriatrics and her ultimate career of becoming a geriatrician.
"Throughout my college career I have explored different medical specialties, yet my heart always returned to geriatrics," Orindas said. "My short-term goal is to do well on the MCAT and apply for medical school during the next cycle."
During her undergraduate career, Orindas extended her learning beyond the classroom by getting involved in research and community service. She was a research fellow at Mayo Clinic (SURF) and presented her work at several conferences. She gave back to the community by tackling one of the most challenging social issues – homelessness. As vice president of H4H Orlando, she learned from opportunities and experiences about this crisis and initiated an impactful student organization called SALT Outreach at UCF. This organization provides basic needs to vulnerable homeless populations as well as professional training and job application assistance.
"I plan on maintaining my partnership with SALT Outreach to ensure that its UCF chapter has a steady foundation prior to my graduation," Orindas said. "I plan on returning as a physician to provide medical assistance to our homeless friends and help reduce the number of unsheltered."