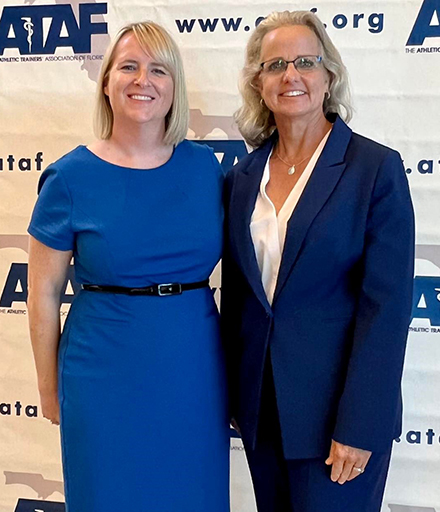 Kristen Schellhase, program director for UCF Athletic Training Program, was inducted into the Athletic Trainers' Association of Florida (ATAF) Hall of Fame for 2022. 
Hall of Fame membership is given in recognition of those who have supported the athletic training profession through state activities, worked to establish the profession of athletic training, and been involved in the caring of the athletes of Florida. 
The ATAF is an organization whose membership is dedicated to the comprehensive health care of our state's athletes and other physically active individuals. 
"Dr. Schellhase is not only an award-worthy athletic trainer, but her impact on the athletic training profession has been immense through her role as an educator and director of our program," says Christopher Ingersoll, dean of the College of Health Professions and Sciences and past NATA Hall of Fame inductee. "She ignites passion in her students and has inspired so many ATs locally here in Central Florida, and across the country."