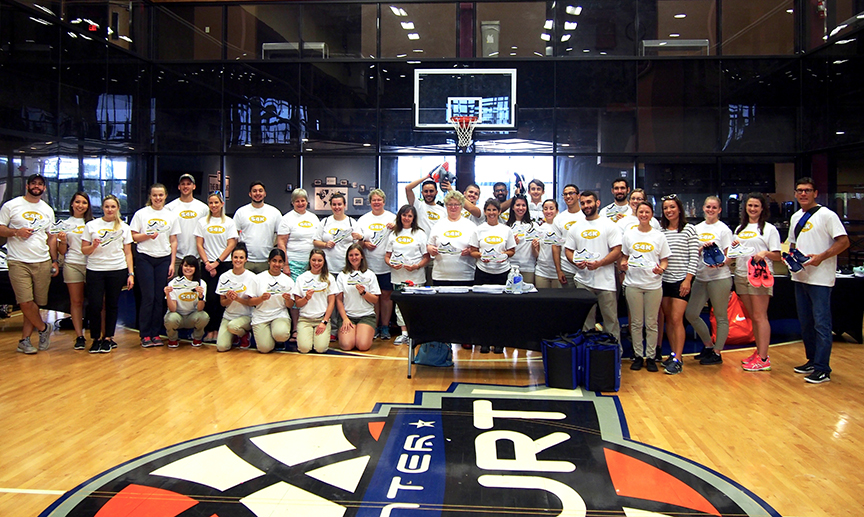 Students in UCF's Doctor of Physical Therapy Program recently had big, medium and little shoes to fill. The students, along with members of the American Physical Therapy Association, took time out of the association's national conference in Orlando last month to step it up for the sake of area foster children.
Foster children often move from place to place with little or no warning, with their belongings stuffed into whatever plastic bag or box is available. Sometimes, their shoes are left behind. Brad Thuringer, founder of Shoes4Kids Inc. and a physical therapy assistant, asked UCF to help supply local foster children with new shoes.
The physical therapy students, along with volunteers from Shoes4Kids and the Devereux Advanced Behavioral Health Orlando Campus, organized a shoe giveaway June 30 for foster children in the Orlando area. American Physical Therapy Association members and staff raised $10,000 by walking 100 million steps in three days, and Shoes4Kids Inc. combined that money with other donations to obtain shoes and socks for foster children served by Devereux. The physical therapy students sorted hundreds of shoes and socks.
Altogether, more than 700 foster kids walked away with a brand-new pair of shoes and socks during the giveaway, held at a Devereux facility.
"I cannot express how I feel at this moment," said one foster parent. "Absolutely gorgeous shoes, what an experience, and such a huge feeling of comfort and kind people for such an amazing cause."
"Our students did an incredible job with organizing and then executing this event with Shoes4Kids," said Erin Brown with the Doctor of Physical Therapy Program.
"On the day of the event we had more than enough volunteers with representatives from every class. The way they interacted with each of the kids and foster families was so positive, respectful, encouraging and professional. They made a huge difference in the community and in caring for the foster kids that day. I could not have asked for more!"
In addition to Thuringer and Brown, two other leaders helped spearhead the giveaway event — Kelsey Kuhn, head of the Shoes4Kids committee at UCF and physical therapy student, and Lindsey Phillips, director of external affairs for Devereux Advanced Behavioral Health Florida.