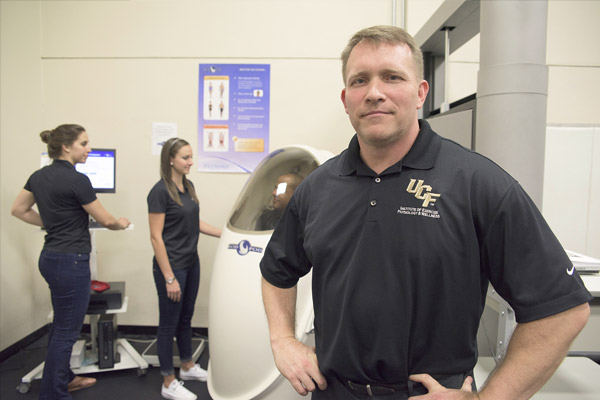 In 2011, UCF recruited Professor Jeffrey Stout to help build a new doctoral program. Within four years, the National Academy of Kinesiology ranked the Exercise Physiology doctoral program sixth out of 52 universities (relative to faculty size) — tied with Ohio State University and University of Minnesota, and higher than Penn State, University of Michigan, and Texas A&M College Station.  Rankings were based on faculty productivity, funding and visibility, including student admissions, graduate assistant support, doctoral publications and employment rates during a five-year span. Recently, a University of Nebraska-Lincoln (UNL) selection committee made up of alumni from across the country chose Stout for the 2018 Alumni Achievement Award.
As a doctoral student at UNL, Stout was the first to introduce and use the mechanomyography (MMG) method for assessing muscle function. Since graduating the UNL doctoral program 23 years ago, about 50 studies from UNL have used the method. Prior to implementing MMG, Stout says researchers widely used electromyography (EMG) to examine the electrical properties of skeletal muscle.
"This new technique [MMG] gave researchers another tool to examine questions like, why and how muscle fatigues. Using this method with EMG offers the ability to examine the electromechanical properties of skeletal muscle. This information may be used to identify the various neuromuscular disease states or progression."
In a recommendation letter for the alumni award, Nova Southeastern University Professor Jose Antonio wrote, "If you ask Jeff what his most significant accomplishment has been over the years, he would say all of the great students he has had the privilege to work with over the past 22 years. Jeff has chaired and served on committees for 25 doctoral students, who are currently some of the best young professors in exercise science throughout the country. Many have already won a number of awards, and achieved promotion and tenure at their respective universities."
While Stout is considered one of the top exercise scientists in the country, in the beginning, he was unsure of his capabilities. When working on edits to his thesis 27 years ago, UNL Professor Terry Housh called his then graduate mentee into his office. "So, have you started revisions to your thesis proposal?"
"I'm not sure I'm cut out for this." Stout evidenced his doubt with an "extensively-edited thesis proposal," the budding scientist's confidence fading. "This is why."
"You should have seen mine after my mentor reviewed it." Housh laughed. "This is part of the process of learning how to write scientifically. It takes time, but you will get a lot better as you write more."
Stout shares this story with graduate students and uses other techniques he picked up under Housh's mentorship. "And with great success. There is a reason the Terry Housh Young Investigator Award carries his name."
For the sake of brevity, Antonio listed only a few of a multitude of Stout's contributions and accomplishments in the field. "Jeff is one of the most talented and accomplished researchers I have ever known in our field. He published more than 265 peer-reviewed publications in more than 60 different research journals. He co-authored eight books, 12 book chapters and presented at over 300 national and international conferences. As a result of his exemplary research efforts, he received just about every award a person in our field can get."
Dr. Jeffrey Stout is Department Chair of Educational and Human Sciences and Professor of Sport and Exercise Science.