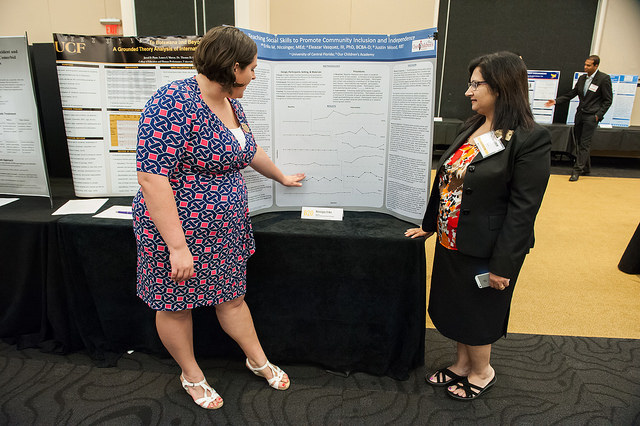 Fourteen students from the Department of Communication Sciences and Disorders presented research posters during UCF's 2015 Research Week, held March 30 to April 2 on the Orlando campus.
Five students in the Communication Sciences and Disorders Track of UCF's Doctor of Philosophy in Education program presented posters at the annual Graduate Research Forum on March 31 in the Student Union's Pegasus Ballroom.
Doctoral student Erika Nicsinger (left in photo) took second place in the "Education" poster competition for her presentation titled "Teaching Social Skills to Promote Community Inclusion and Independence."
For a list of all graduate student participants from the college, see selected pages of the 2015 Graduate Research Forum program. For photos of several of these students at the forum, see bit.ly/1G7G2tW.
In addition, nine undergraduate students made poster presentations at the annual Showcase of Undergraduate Research Excellence on April 2 in the Pegasus Ballroom.
Undergraduate Sophia Luna-Webb took third place in the "Health Sciences" poster competition for her presentation titled "Comparison of Acoustic Measures in Discriminating between Those with Friedreich's Ataxia and Neurologically Normal Peers."
For a list of all undergraduate participants, see the 2015 SURE program. For photos from the forum, see bit.ly/1FqAV5w.