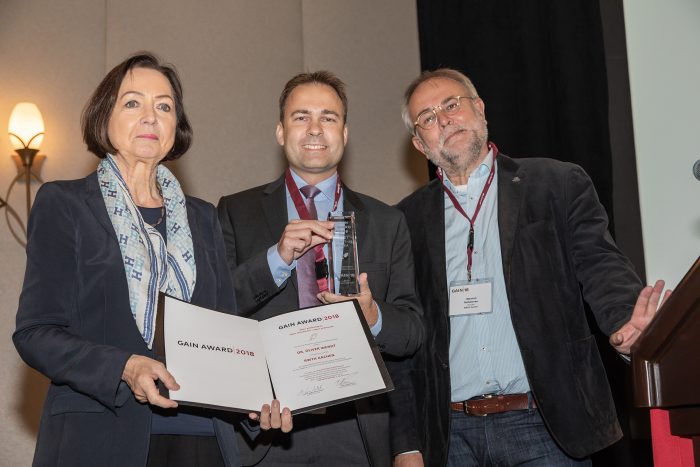 UCF researcher Oliver Wendt recently received an inaugural GAIN Award for technology that teaches communication and social skills to individuals with severe autism or developmental disabilities.
GAIN (German Academic International Network), an international organization of German scientists and research organizations, selected Wendt for the award for his invention — two apps named SPEAKall! and SPEAKmore!, which he showcased at the organization's annual conference in Boston in September.
"Nearly 66 percent of children who have autism are nonverbal," Wendt said. "The technology can be life-changing for the children and their parents and caregivers."
Wendt, who was born in Germany, is a visiting assistant professor in the School of Communication Sciences and Disorders. He began developing SPEAKall! and SPEAKmore! when he was a faculty member at Purdue University in Indiana.
In addition to colleagues at Purdue, he collaborated on the apps with Jennifer Kent-Walsh, director of UCF's Florida Alliance for Assistive Services and Technology; Terri Daly, director of the UCF Center for Autism and Related Disabilities; and now-retired UCF Professor Chad Nye. Their work was supported by a grant from the National Institutes on Deafness and Other Communication Disorders.
Wendt came to UCF in August to continue their collaboration.
The apps that Wendt and his colleagues developed are very versatile, fully customizable speech and language learning tools based on latest mobile technology. These solutions can overcome limitations of traditional communication boards and books used for years by speech-language pathologists and special educators.
A communication board or book includes a collection of small laminated picture cards and words. Speech-language pathologists teach their nonverbal clients to communicate by selecting and moving the cards.
Wendt was first intrigued by the idea of creating mobile technologies to replace communication boards and books for his clients when their parents told him the children were interested in electronic tablets and their many motivating features.
The parents became very involved in the design of the apps for use on tablets, Wendt said. With their input, he and his team designed a simple software interface that is not distracting for the user. Parents also are able to customize the apps by adding their own photos and words that are familiar to their child.
Wendt said the apps also have a special randomization feature that enhances the user's learning experience. The randomization encourages users to learn, rather than memorize the placement of the graphic symbols. "We want them to truly understand the words behind the symbols," he said.
At the conference in Boston, Wendt had five minutes to present his technology to a panel of judges. He shared a video that showed the progression of verbal communication for children with severe autism. The panel was impressed how quickly the children developed better speech and language using the apps on their tablet devices.
Wendt said the apps are meant to be used as a major companion to, not a full replacement of, lower-technology communication boards. Tablets can break, batteries can die, he said, so it is always good to have a backup method of communication.
Wendt plans to travel to Germany in December for the GAIN Award's prize, which is one week of intensive, individualized coaching and entrepreneurial mentoring from start-up business experts. He hopes to use information gleaned from the coaching to find new paths towards commercialization of the technology, which has already been downloaded over 40,000 times around the globe.
Back at UCF, he will continue working with his colleagues on further enhancements to the SPEAKall! and SPEAKmore! apps including an iPhone version and a cloud-based content management system named SPEAKtogether!
"Children with no way to tell us what they want, see, or feel need a way to be understood. SPEAKall! and other technology advances have given these children their voice, and now they can be understood by everyone," said Terri Daly of the UCF Center for Autism and Related Disabilities. "It is a life-changer for both them and their parents."
Learn more by viewing a television news segment about Wendt's technology, a parent testimonial and a TEDx presentation by Wendt.