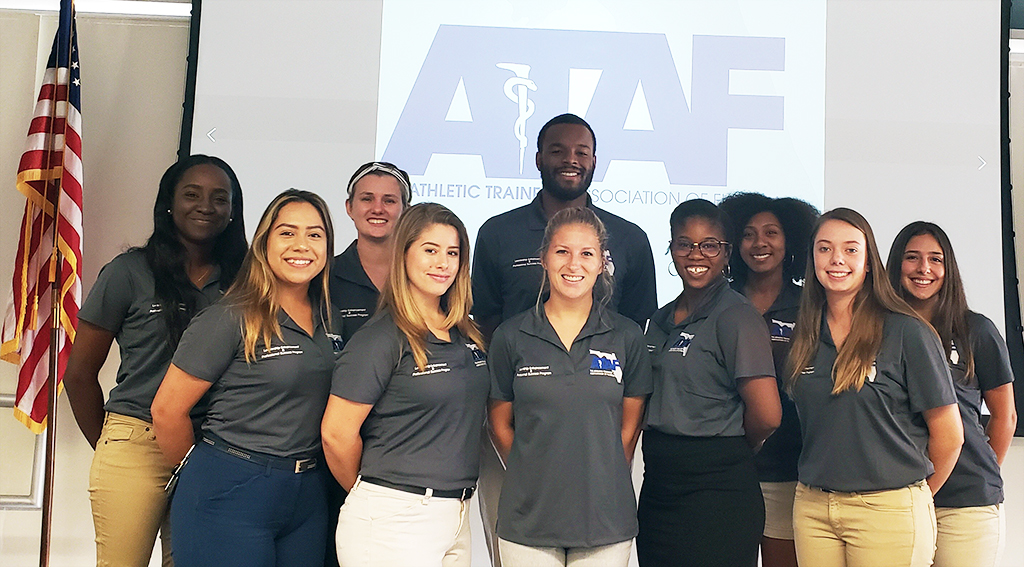 Allison Newsome, a junior in UCF's Athletic Training Program, was recently selected for the Athletic Trainers' Association of Florida's Student LEAPS Program for 2018-2019.
Newsome is one of 10 students throughout the state appointed to LEAPS (Student Leadership Enhancement and Professional Success). The program prepares athletic training students for leadership positions in professional organizations.
"I wanted to select a student who demonstrated passion, commitment to their education and chosen profession; someone with a great attitude and who was coachable and goal-oriented," said athletic training Instructor Carlos Gual. "Allison Newsome surpassed all of these expectations."
Newsome said she was shocked when she heard she was selected for the ATAF Student LEAPS Program. The position provides multiple educational and leadership opportunities, as well as a chance to hone her career plans through monthly professional development activities.
Newsome grew up in Miami playing sports and especially enjoyed softball and volleyball. A catcher on her high school softball team, she said it was there she became interested in the work of the school's athletic trainers.
One athletic trainer told Newsome that she should ice her knees after every practice or game to help reduce the pain that often comes with crouching or squatting. Newsome has never had a knee injury, and even now, years later, she said, "My knees are great!"
She also saw the value of athletic trainers because they are often the first responders when a player is injured during a game or practice.
As a student at Miami-Dade College, Newsome assisted athletic trainers for the school's baseball team, and began researching the best places to continue her studies.
"I did my research on athletic training programs, and UCF was at the top of the list," Newsome said. "The staff is great, and Kristen Schellhase, director of UCF's Athletic Training Program, was very welcoming."
Newsome hopes to eventually become a member of Major League Baseball's athletic training team; currently, there are only three women out of more than 300 athletic trainers in the MLB.
Newsome is off to a great start — she was recently selected for a clinical practice with UCF's men's baseball team as part of her athletic training curriculum. She also has worked with the women's soccer team.
"Working on the teams has been a great experience," Newsome said. "Everyone wants you to succeed in the Athletic Training Program, and I am very honored to have been selected for the LEAPS program."