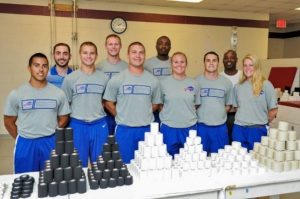 This past summer Charles Claxton, a senior in the UCF Athletic Training Program, earned the opportunity of a lifetime when he was selected to do an internship with the NFL Buffalo Bills. During his junior year internship rotation at UCF, Claxton had a clinical rotation with Jarrett Schweim, athletic trainer for UCF Men's Basketball team. One day Schweim contacted Claxton to see if he would be interested in doing an NFL internship, and he immediately jumped at the opportunity. When asked why he considered Claxton for the internship, Schweim said, "He made a very good first impression on me and others I work with. He has a very humble and open minded approach every day and has the right personality to be a successful Athletic Trainer. Charles picks up on the little things, pays attention to details and has the intrinsic factors that you look for in an athletic trainer. I had no hesitation recommending him to Shone Gipson of the Buffalo Bills because I knew Charles would represent UCF in a very positive way." After interviewing with both the Buffalo Bills and the New England Patriots, Charles chose the Bills and was on his way to Buffalo, New York.
At the NFL summer camp, Claxton was able to work alongside a team of healthcare professionals including doctors, physical therapists, chiropractors, massage therapists, and athletic trainers. He learned much over the summer and saw injuries and medical conditions he had not encountered during his clinical rotations. The experience strengthened his commitment to the athletic training profession. He said several things stood out to him about the NFL experience — the frequency with which the medical team used X-rays and MRIs for diagnosis, and the use of modalities for rehabilitation. He also noted that the players were very in-tune with their bodies and understood what needed to be done and why.
While at camp, Shone Gipson, assistant athletic trainer for the Buffalo Bills, encouraged Claxton to apply for a scholarship from the Professional Football Athletic Trainers Society (PFATS). PFATS is an organization founded by athletic trainers for athletic trainers with a mission of promoting and advancing the profession through education and research. Claxton submitted his cover letter, resume, and letter of recommendation, and was awarded a $1,000 scholarship.
With graduation approaching at the end of the Spring 2016 term, Claxton is researching graduate schools and graduate assistant positions around the country. His goal is to one day work with a professional football or basketball team. Congratulations to Charles Claxton. He is taking the steps needed to make his dreams come true!