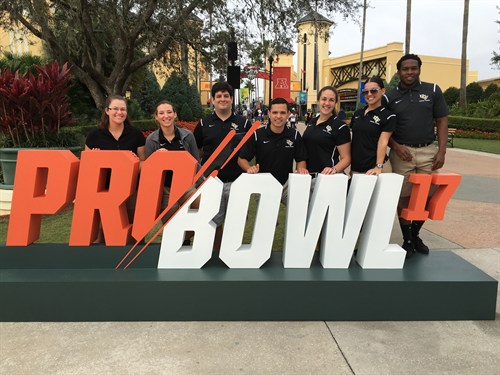 Last month Orlando hosted some of the biggest names in the NFL at the ESPN Wide World of Sports Complex at the Walt Disney World Resort. They came together to practice for the annual NFL Pro Bowl, and UCF athletic training students were right there in the middle of the action!
Under the direction of the sports medicine staff from the Dallas Cowboys and the Kansas City Chiefs, students learned what goes into keeping professional players in the game.
The week was filled with camaraderie and a celebration of football as the players practiced for the big game. The students were amazed at how approachable and friendly the players, coaches, and medical staff were. The sports medicine staff was pleased with all of the assistance they received from the students, and they were happy to answer questions and give advice.  The students noted how well the players and the coaches got along, and several said that it was like being with one big family.
While the players were lighthearted and cordial during the practice sessions, it was all business on game day. This year the NFL Pro Bowl went back to being a competitive "conference" event – AFC vs NFC. Matt Ramirez, a current junior in the athletic training program, was one of eight students chosen to work the game held at Camping World Stadium on Sunday, January 29, 2017. He saw first-hand how intense the job is for athletic trainers working with the NFL. "It is a 100 percent commitment, 100 percent of the time," said Ramirez. His goal is to one day work with a professional sports team.
All of the students brought back an appreciation for the hard work and dedication required to land a job with the NFL. "It was an incredible experience," said junior student, Alina Verdeja. "I would do it again in a heartbeat!"