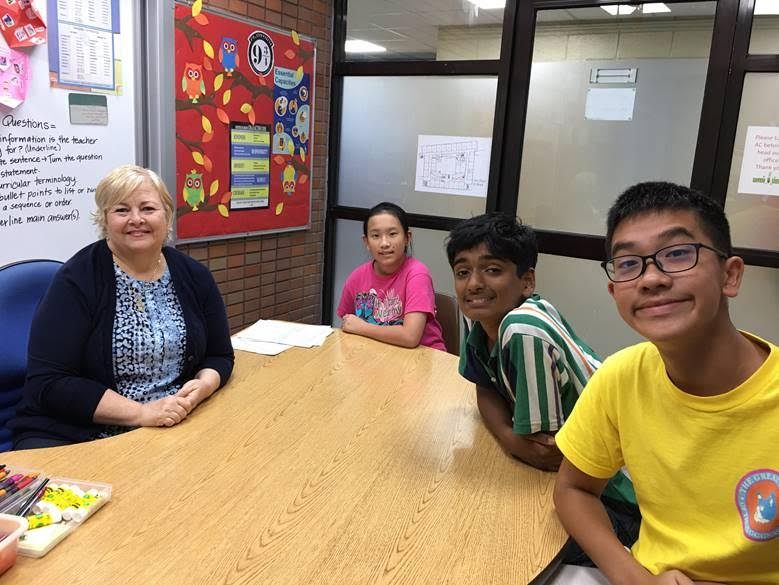 Mary Ann Cooke '98 was a newly single mother-of-two when she decided to go back to college. Even then, she knew that UCF stands for opportunity. Read about Cooke's journey from "The City Beautiful" to "The Heart of Asia."
 
The opportunity for Mary Ann Cooke '98 to travel to Taiwan for a career came courtesy of her older brother, Ian, who worked at the Taiwan American School (TAS) and spotted a job posting for a speech-language pathologist.
Having earned her master's degree from UCF, Cooke initially landed a clinical fellowship at a pediatric rehabilitation and developmental clinic in Bedford, VA. Several years later, she transferred to working primarily with the elderly population in skilled nursing facilities. After applying for the position at TAS and receiving a job offer, Cooke packed up and moved more than 8,000 miles to East Asia.
Cooke said her UCF studies showed her how "broad and deep" the field was becoming, and she was provided with invaluable hands-on experience that "built upon the theory and expectation of excellence that my professors had shared."
It is not necessary for a speech-language pathologist to be fluent or even conversant in the native tongue of their client. "Speech and vocal challenges are universal," Cooke said. Most of her clients at TAS speak Mandarin at home, but speak English at the school. In fact, Cooke added, "Most of the locals speak English, so it is easy to be rather lackadaisical about learning Mandarin Chinese or Taiwanese, the two main languages spoken here in Taipei."
The nurturing environment at TAS has provided Cooke with many unforgettable successes as a therapist, she said. One young man was experiencing personal challenges as a middle-school student, according to Cooke, struggling with his grades, his self-image, and his lack of control over his life. His teachers and peers encouraged the young man, and Cooke worked on his listening comprehension, written language and vocabulary skills until he was ready to "graduate" from speech/language class.
A few years later, Cooke said she was amazed to see the young man in a leading role in the school's elite dance troupe, "now a mature young man, a perfect picture of strength, powerful talent and confident control. It thrilled me that he had found his way to soar."
Getting to Know Mary Ann Cooke
ALL ABOUT YOUR CAREER
Why do you do what you do?
Helping others gives my life meaning, and I enjoy the opportunity to use my skills to improve others' potential outcomes.
What is your most memorable experience on the job?
While working in a pediatric clinic in Bedford, VA, I was part of a hippotherapy group. Each young client was mounted on a horse that walked slowly around the ring.  As the physical therapists worked on improving physical strength, posture and balance, the occupational therapists targeted timing and coordination. I added language interaction. I loved seeing the sparkle in the kids' eyes as they accomplished tasks they had never even imagined.
ALL ABOUT YOU
What has been your favorite city or country to visit?
Taiwan has the friendliest people I've ever met.  Hawai'i has the most beautiful beaches. Bangkok has the best shopping in Asia. But home, where my daughters live in Saint Louis, MO and Chattanooga, TN, is always best.
What is the happiest and/or proudest moment of your life?
Happiest – When my children were born.
Proudest – Graduating from UCF with my master's degree at the age of 44.
ALL ABOUT YOUR CONNECTION TO UCF
How has your UCF degree helped in your career?
Immeasurably.  When I was working my way through school, I was barely scraping by as a billing clerk.  My parents deserve so much credit for helping me by transporting kids and cooking meals and providing their unfailing encouragement. Once I had my credentials in hand, I was equipped to get professional positions in different environments and work with different populations.
What extracurricular activities were you involved in at UCF?
I joined the UCF NSSLHA Chapter and the Phi Kappa Phi Honor Society.
What's the most important piece of advice you would give to your fellow Knights?
Establish good working relationships with everyone and be respectful of other people's time and effort.