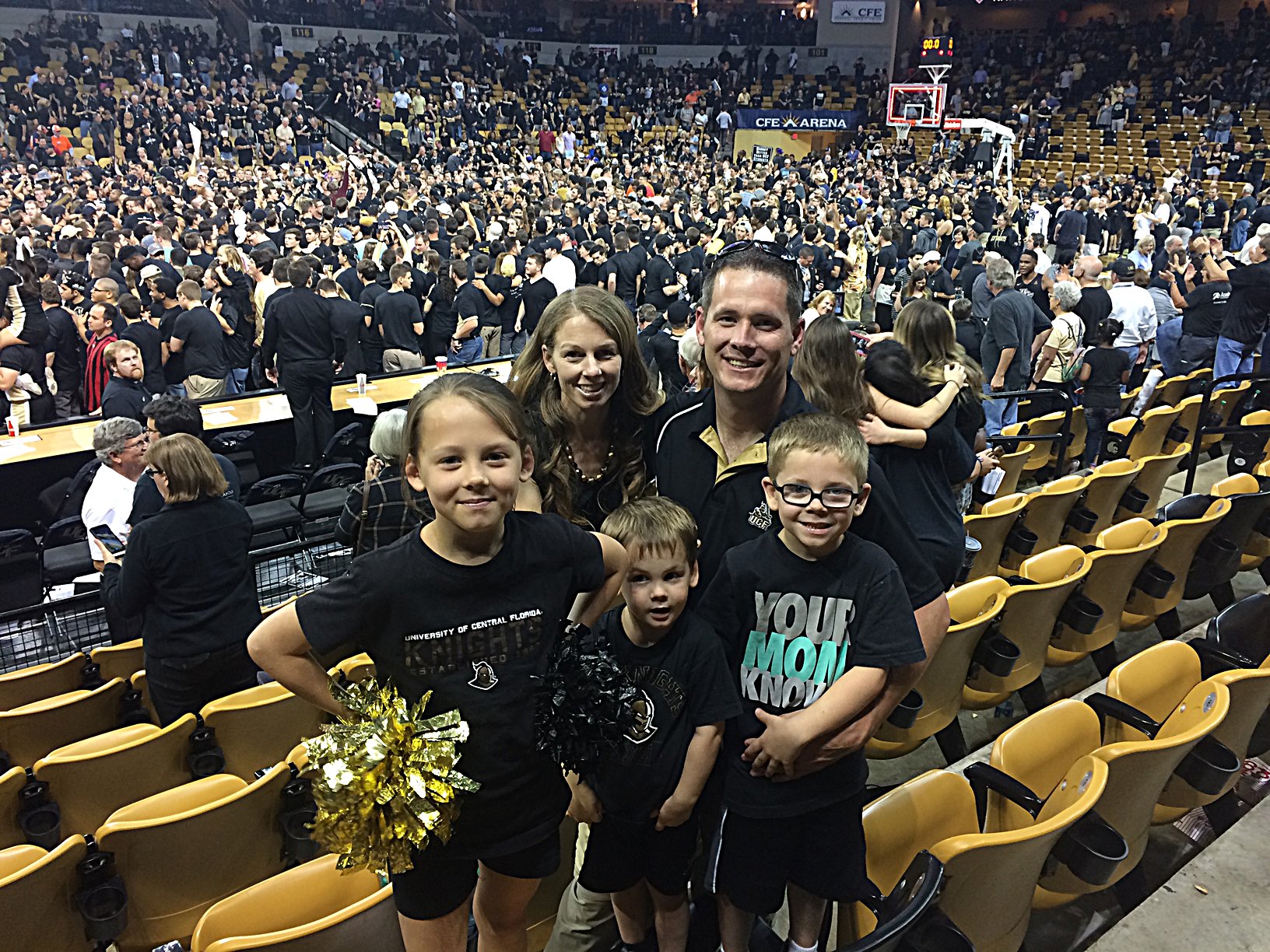 Adam and Melissa Casebolt met while undergraduate students. Across a crowded basketball court, their eyes locked, briefly. Melissa, a member of the basketball team's student athletic training staff, was focused on rendering clinical care to the players, and Adam, a dispatcher for the UCF Police Department, was a spectator. However, Adam did not just "phone it in" – by the end of the game, Adam had approached Melissa and left with her number.
The Casebolts' chance encounter is just one of the many reasons why the couple love UCF. Adam grew up in South Florida, and Melissa is from Lakeland, but they now call UCF home.
UCF could not ask for better next-door neighbors. The Casebolts are passionate about UCF not only because of the aforementioned basketball game, but also because of the opportunities that UCF provided to them as students that continue to shape their lives.
Adam jump-started his academic career with a brief foray into electrical engineering, but was more electrified by the study of criminal justice. He has risen through the ranks at UCF PD, and is now a sergeant.
"It's hard to imagine a different career path," Adam said. He was named 2010 Officer of the Year by the Central Florida Crisis Intervention Team for saving the life of a man in the midst of a mental health crisis. Recently, he participated in an active shooter video produced by UCF PD as a public service communications piece. He is also a volunteer bagpiper with The Pipes and Drums of the Orange County Sheriffs Office, and will be part of a 250-mile, three-day charity bike ride next year to raise money for the National Law Enforcement Memorial in Washington, D.C.
"Adam is a valuable asset to our Criminal Justice program," said Cory Watkins, associate professor for the Department of Criminal Justice.  "As a professional in the field, he is extremely active and makes multiple efforts to bring his expertise to the classroom as a regular guest lecturer and presenter. He really helps the students understand the connection between academics and practice. We look forward to a longstanding relationship with Sgt. Casebolt."
Both Adam and Melissa were high school achievers, and the first in their families to attend college. When Melissa, who is from Lakeland, was touring UCF, she said, "I just fell in love with it, and said, 'This is where I need to be.'"
It appears the Casebolt legacy will continue through their little future Knights. The entire family cheers for the Knights at sporting events, and their daughter attends UCF cheerleading camp each summer. She was beyond thrilled when she received some real UCF pom-poms from a cheerleader, Melissa said.
"Every student should have the same opportunities that I had," Melissa said. Throughout the multiple partnerships created by the Department of Health Professions, Melissa built a network of health care professionals that continues to serve her as a middle-school teacher at Wedgefield School in Orlando.
In addition to teaching physical education, Melissa also serves as the school's Athletic Director & Healthy School Team Leader; positions that allow her to combine her love of health and fitness that was instilled in her at UCF.
"Melissa was an excellent student and has maintained her connections with the athletic training program," said Kristen Schellhase, Program Director for the Athletic Training Program and Dean's Faculty Fellow. "Melissa and Adam have faithfully supported UCF over the years, and Melissa still has close ties with her former athletic training program classmates and faculty."
"On a bubble map," Melissa said, referring to a system of graphing used by her students to help organize complex thoughts, "UCF is the middle bubble – it's the heart of everything and extends throughout the community."
Getting to know Adam:
What do you do? I currently work for the UCF Police Department as a Law Enforcement Sergeant.
Why do you do what you do? I love working for UCF and serving our community. Early in my childhood I developed an interest in serving my community as a police officer and helping others in times of distress and need.
What do you like most about your job? Each day brings new and unknown challenges. Also, there are those moments in your career where you know you truly have helped someone in a life altering way. It is very rewarding to be there for others.
What is your most memorable experience on the job? There are many memories both positive and negative throughout the 16 years I have worked at the UCF Police Department. The most impactful on me without a doubt was the loss of my friend and co-worker, Cpl. Mario Jenkins, who died in the line of duty on September 24th, 2005.
What do you do for fun? I am a bagpiper, playing with The Pipes & Drums of the Orange County Sheriff's Office. Recently I have taken up cycling and am currently preparing for a 250 mile ride over three days from Virginia to Washington DC with the Police Unity Tour, honoring those who have died in the line of duty.
What profession other than your own would you like to attempt? Either a lawyer (police legal advisor) or a Chef.
If someone wrote a book about you, what would the title be? Can't Stop Talking.
What has been the best meal of your life so far? Every meal I have with my wife and three kids (when they are behaving).
What is the happiest and/or proudest moment of your life? My wedding day and the birth of each of my three kids.
What is your favorite quote? "Anyone can hold the helm when the sea is calm." – Publilius Syrus
What is the last book you read? Why Nations Fail – Daron Acemoglu
Why did you choose to attend UCF? I grew up in South Florida and was looking for a school that was somewhat close to home, but far enough my parents could not just stop in.
What extracurricular activities were you involved in at UCF? I served with a volunteer service club, Circle K, which was very rewarding. I also never missed a football or basketball game or other sporting activities.
What's the most important piece of advice you would give to your fellow Knights? As you progress through school and enter into your career fields, do not forget to keep balance in your life with work, family, and social activities. Having strong family relationships, a moral compass, and support system is important to overall health.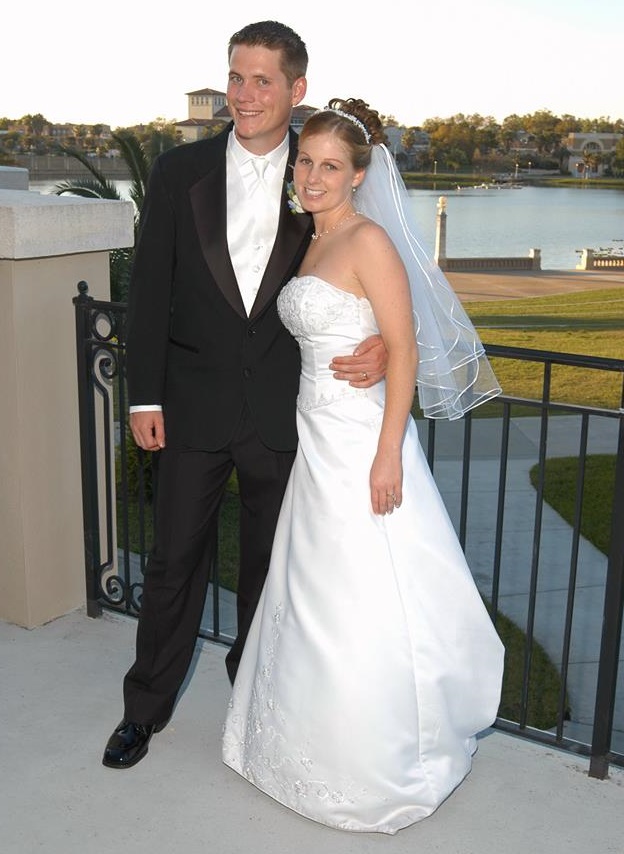 Getting to know Melissa:
What do you do? I am a physical education teacher and athletic director at Wedgefield School K-8.
Why do you do what you do? My passion is to inspire students and teach them to be healthy productive citizens. It is rewarding when students see positive changes in their health as a result of health education. It is important for students to make the connection that they do have power over their physical, social, and mental health.
What do you like most about your job? I am a type A personality and am always on the move. As a PE teacher, I am able to use movement to build character and instill lifelong healthy habits.
What do you do for fun? Since I am constantly attending to student's needs, my hobbies are laid back. We have chickens! So, gathering eggs and taking care of them is relaxing to me. I love to run, listen to audio books, watch sports and garden.
What makes you laugh out loud? My two young boys making excuses for something they did, manipulating situations, or explaining something complex using big words (they are 4 and 6 years old).
What profession other than your own would you like to attempt? Life Coach
What is the last thing you Googled? Dumbwaiter (it was in my daughter's 4th grade level book)
What has been your favorite city or country to visit? Islamorada
If someone wrote a book about you, what would the title be? Energizer Bunny
What is your favorite quote? "It is health that is real wealth and not pieces of gold and silver." Mahatma Gandhi
What is the last book you read? All the Missing Girls by Megan Miranda
Why did you choose to attend UCF? It came down to UF or UCF. After attending the tours for each campus, I knew UCF was the perfect fit for me. There were many opportunities to get involved, everyone seemed authentic, and it was closer to my hometown.
How has your UCF degree helped in your career? UCF's Health and Public Affairs Athletic Training program opened many doors and allowed me to network across the state. During my senior year, I traveled with the UCF football team as a student athletic trainer. I was able to observe top notch doctors in the community and the athletic training program staff always encouraged us to take advantage of opportunities to explore various settings.
What extracurricular activities were you involved in at UCF? I was obsessed and still am with UCF. I was an RA for Apollo and Libra, a UCF Tour Guide, President of Catholic Ministries, LEAD Scholars, and I worked part time for student disabilities services. I lived and breathed UCF. In fact, my balcony in Apollo had white Christmas lights strung along it that spelled "U" "C" "F" that was left up all year.
What is your favorite UCF memory? During spring break of 2001, I went on an alternative spring break trip with an awesome group of LEAD Scholars. We worked with Habitat for Humanity to build houses in Knoxville, TN. One night, we drove to the University of Tennessee. Outside their entrance is a gigantic rock that people can randomly paint and write messages on. With our headlights on the rock, we painted it black and wrote UCF in gold.
What's the most important piece of advice you would give to your fellow Knights?
Don't be afraid of failure. Learn how to overcome adversity and you will shine. I was the first in my family to attend a university and am thankful for all of the opportunities UCF provided for me to grow my leadership skills.