UCF School of Social Work
Over the past year, nearly one-third of our graduates were first-generation students, meaning they were the first in their family to earn a 4-year college degree. We know social work students choose this field because they want to make positive impacts in the lives of others. The field of social work offers so much variety in ways to help others, including family services, mental health counseling, school social work, supporting marginalized communities and overall helping to advance social justice.
BSW students also have the opportunity to earn certificates and minors in the following focus areas to further enhance their social work scope:
We know accessibility is one of the major concerns for graduate students. That's why we offer this program in a fully on-campus mode or a fully online mode. Within each program we offer a fast-tracked path for students who have a BSW degree.
Our graduate program was recently named as one of the top social work programs by U.S. World News Report. The MSW on-campus program offers unique opportunities for students, like the option to earn a Military Social Work Graduate Certificate to better serve active and veteran military personnel and their families. Qualifying students can also be selected as a recipient of the MSW Fellowship.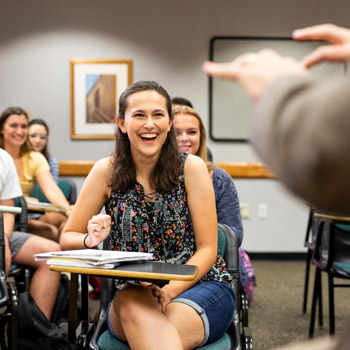 From the Apopka Popup Clinic that serves migrant farmworkers and uninsured/underinsured patients, to our interprofessional education programs, our School values the importance of collaborative, interdisciplinary work between social work students and their peers in other supporting professions.
Many students are interested in becoming a social worker to advocate for social and economic justice for individuals, groups, and communities. That's why all our qualifying students are guaranteed field placement, or internships, at agencies like hospitals, schools, police departments, nonprofit organizations, and many more to best fit with their career goals.
Have you wanted to be part of meaningful research that impacts the future of social work? Students have the opportunity to work alongside faculty as Research Assistants or Graduate Research Assistants through our Center for Behavioral Health Research and Training. Our faculty are experts in a range of topics from suicide prevention, substance abuse, violence against women, aging and older adults, refugee mental health, and so much more!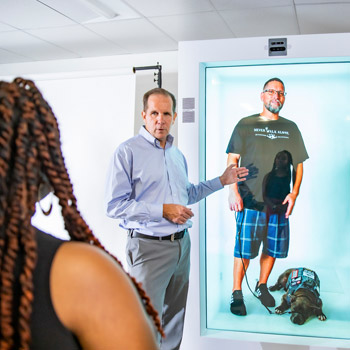 An Inclusive & Diverse Community
The Greater Orlando area is so vibrant with diversity! Not only are we a theme park destination, but our communities embrace what it means to be a good neighbor. We pride ourselves on being a welcoming environment for all to access a better future. Conveniently located in the center of eclectic urban areas, our campus also houses a backyard of natural escapes.
Students have the opportunity to forge lasting partnerships with local agencies that advocate for the community and the people that thrive in the uniqueness of Orlando. It is truly the place where you can balance work and play, while still Charging On toward a shared goal of harmony in your community – that's why many social work alumni choose to reside in Orlando even after graduating!