Available UCF Social Work Scholarships
We offer an array of scholarships for students in Social Work undergraduate and graduate programs. For all scholarships administered by UCF, students must apply through the A2O platform. Students are encouraged to apply as soon as applications become available, typically in the latter half of the spring term. Some scholarships in the A2O system are specifically for UCF Social Work students, while other scholarships are available through the college and the university. We encourage students to apply for all scholarships they qualify for.
| Award | Name |
| --- | --- |
| $3,000 | Light the Way |
| $2,000 | Charlotte Willis Memorial Endowed Scholarship |
| $1,500 | Invincible Knights |
| $1,500 | Patricia T. Barnes Memorial Endowed Scholarship |
| $1,000 | CHPS College Wide Graduate Scholarship |
| $1,000 | Marlene Richmond Memorial Quasi-Endowed Scholarship |
| $1,000 | Judith G. Thames Scholarship |
| $1,000 | CHPS College Wide Undergraduate Scholarship |
| $1,000 | The Variety Children's Charity of Florida James Bohannon Memorial Endowed Scholarship |
| $500 | Dr. Cheryl Evans Green Memorial Scholarship |
External Scholarship Opportunities
These scholarships are awarded by outside organizations and are not reflected in the UCF A2O system. However, many of our students will qualify for these scholarships. Please use the links below to learn more about these scholarship opportunities.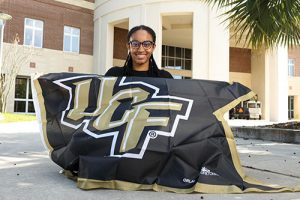 The Invincible Knights Award was created to honor students who demonstrate stoic determination, tenacity of purpose, grit, bravery, resilience and hardiness to triumph over difficult circumstances and Charge On! toward a better future.
Founding Dean Christopher Ingersoll was inspired to create the award after hearing the story of a social work student who has overcome tragedies in her life on the road to becoming a Knight, including witnessing her mother's murder at the hands of her stepfather.
"My mother died when she tried to leave my stepfather for a better life," Murphy-Allison said. "How could I let her death stop me from achieving her dream?"
The Invincible Knights Award is a $2,000 scholarship made possible by charitable donations from both faculty and staff in the college, as well as community partners.
"We want to support our students who show an unwavering commitment to success," said Ingersoll. The Invincible Knights Award is open to any student enrolled in an undergraduate or graduate program within the College of Health Professions and Sciences.
APPLY BY MARCH 12th
Scholarship applications are only available online through the A2O portal. You will only see scholarships for which you meet the basic eligibility requirements.
Establishing your own scholarship program is an excellent way to create a legacy and support promising and deserving students. These gifts can also be a meaningful act to honor or memorialize friends, educators, or family members. Your generosity will ensure that the best, brightest, and most deserving students are supported on their path to excellence.