Available UCF CSD Scholarships
We offer an array of scholarships for students in Communication Sciences and Disorders undergraduate and graduate programs. For all scholarships administered by UCF, students must apply through the A2O platform. Students are encouraged to apply as soon as applications become available, typically in the latter half of the spring term. Some scholarships in the A2O system are specifically for UCF CSD students, while other scholarships are available through the college and the university. We encourage students to apply for all scholarships they qualify for.
| Award | Name |
| --- | --- |
| $2,000 | The David Ingram Memorial Scholarship |
| $1,500 | Invincible Knights |
| $1,000 | Mike Murray Make a Difference Scholarship |
| $1,000 | Angel's Gift Scholarship |
| $1,000 | CHPS College Wide Graduate Scholarship |
| $1,000 | CHPS College Wide Undergraduate Scholarship |
| $1,000 | The Joe DiNapoli 'Extended Journeys' Endowed Scholarship Fund |
| $1,000 | LIFE at UCF Disability, Aging & Technology Undergraduate Scholarship |
| $1,000 | The Variety Children's Charity of Florida James Bohannon Memorial Endowed Scholarship |
| $500 | Communication Sciences & Disorders Graduate Scholarship |
| $500 | Communication Sciences & Disorders Undergraduate Scholarship |
| $500 | The Dr. Kenyatta Rivers Honorary Scholarship |
External Scholarship Opportunities
These scholarships are awarded by outside organizations and are not reflected in the UCF A2O system. However, many of our students will qualify for these scholarships. Please use the links below to learn more about these scholarship opportunities
EBS Healthcare Scholarship Program
Pilot International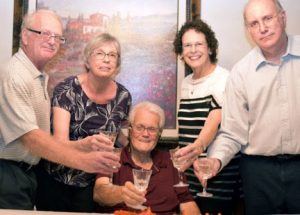 The Mike Murray Make A Difference Scholarship was established in honor of Murray, known as "Da Voice" in the Central Florida community for his booming, powerful announcer's voice at Dr. Phillips High School basketball games. Murray has been battling Parkinson's Disease since 2008.
Instead of quitting when his voice was taken away, he focused on abilities rather than disabilities. He used one of his other gifts—his superb writing ability—to share his personal experiences and send a compelling message to others with disabilities.
Murray has dedicated the last 15 years of his life to providing a voice to those who have "lost their voice"—often quite literally—due to aphasia, deafness, cognitive limitations or progressive disease processes.
The scholarship was created from donations from three of Murray's long-time friends and colleagues from the Society for Technical Communication, and supports students who focus on abilities instead of disabilities.
APPLY BY MARCH 12th
Scholarship applications are only available online through the A2O portal. You will only see scholarships for which you meet the basic eligibility requirements.
Establishing your own scholarship program is an excellent way to create a legacy and support promising and deserving students. These gifts can also be a meaningful act to honor or memorialize friends, educators, or family members. Your generosity will ensure that the best, brightest, and most deserving students are supported on their path to excellence.