Available UCF Athletic Training Scholarships
We offer an array of scholarships for students in the Athletic Training graduate program. For all scholarships administered by UCF, students must apply through the A2O platform. Students are encouraged to apply as soon as applications become available, typically in the latter half of the spring term. Some scholarships in the A2O system are specifically for UCF Athletic Training students, while other scholarships are available through the college and the university. We encourage students to apply for all scholarships they qualify for.
| Award | Name |
| --- | --- |
| $1,000 | CHPS College Wide Graduate Scholarship |
| $1,500 | Invincible Knights |
| $1,500 | Athletic Training - Orlando Orthopaedic Center Foundation Scholarship |
| $1,000 | Athletic Training - David Cassidy Memorial Scholarship |
External Scholarship Opportunities
These scholarships are awarded by outside organizations and are not reflected in the UCF A2O system. However, many of our students will qualify for these scholarships. Please use the links below to learn more about these scholarship opportunities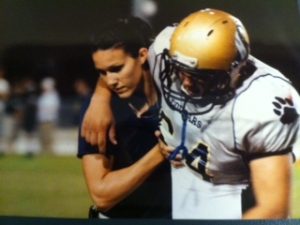 If you've ever been to a football game in Orange County, you've probably seen volunteer athletic trainers hard at work, supported by the Orlando Orthopaedic Center Foundation. The foundation has a longstanding history of supporting youth athletics throughout Central Florida, and supporting athletic trainers helps ensure the safety of these young athletes.
To further its support of athletes, the Orlando Orthopaedic Center Foundation funded a $1,500 recurring scholarship to support UCF students pursuing a degree in athletic training. The foundation views this role as critical in supporting athletes' wellness.
"It is our goal to ensure all youth athletes, regardless of background or socioeconomic status, have the opportunity to develop a lifetime of healthy habits playing the sports they love," said Loran VanWormer, foundation director. "We are fortunate to have such a fantastic program here in our own backyard and enjoy the opportunity to work with and support the UCF AT program."
Orlando Orthopaedic Center Foundation offers athletic training students multiple opportunities to grow in their field, from providing volunteer opportunities to networking at its annual conference. Its support helps AT students grow their love for the profession and supports their success.
APPLY BY MARCH 12th
Scholarship applications are only available online through the A2O portal. You will only see scholarships for which you meet the basic eligibility requirements.
Establishing your own scholarship program is an excellent way to create a legacy and support promising and deserving students. These gifts can also be a meaningful act to honor or memorialize friends, educators, or family members. Your generosity will ensure that the best, brightest, and most deserving students are supported on their path to excellence.