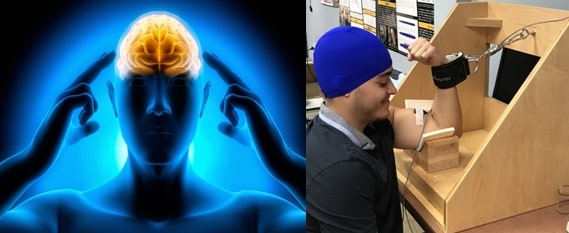 Mental imagery is a technique that involves an individual imagining that they are maximally contracting a target muscle group without any actual physical movement. Mental imagery has been used clinically and in research for many different purposes, including sport psychology, post-operative rehabilitation, and pain management due to its ability to activate areas of the corticospinal tract, responsible for voluntary muscular activation in a manner similar to resistance training.
This study aims to use a brain stimulation technique known as transcranial magnetic stimulation (TMS)to determine the acute effects of strength training and mental imagery on corticospinal function and strength of the biceps muscles.
Inclusion Qualifications:
Both men and women may participate
Aged 18-35 years
Have not performed any strength training within the previous 6 months
Right hand dominant
Exclusion Qualifications:
You may not participate in this research opportunity if any of the following applies to you:
Have performed strength training in the previous 6 months
Left hand dominant
Surgery to the joints of the upper-body (i.e., neck, shoulder, wrist, etc.) within the previous year
Neuromuscular disease (e.g. Parkinson's, MS, ALS) or Metabolic disease (e.g. diabetes, thyroid disorder, metabolic syndrome)
Arthritis in the upper limbs (hands, arms, shoulders) or trouble using/controlling one's muscles
History of cancer, stroke, or heart attack
Use of an assistive walking device or other mobility aids
Physician mandated contraindication to exercise within the last 6 months
Epilepsy or history of convulsions/seizures, fainting, or syncope
History of head trauma that was diagnosed as concussion or was associated with loss of consciousness
Participate in this Research
Submitting this form will put you in contact with the main point of contact for this project. They will provide more information and determine if you meet all of the qualifications needed.
UCF IRB#: STUDY00001295
PI: Matt S. Stock, Ph.D
IRB Expiration February 17, 2021
Recruitment End Date:
February 1, 2021
Location:
UCF Partnership I Building
12354 Research Parkway
Room 221
Orlando, FL 32826
Time Commitment:
Number of visits: 1
Expected time per visit: 3 hours
Compensation:
Type: $10 in gift cards
Point of Contact:
Ryan Girts
Associated Units:
Kinesiology
Physical Therapy
Exercise Physiology & Rehabilitation Science

Related Research Participation Opportunities