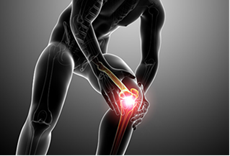 The objective of this study is to compare a novel 6-week strength training rehabilitation incorporating power exercises (STRIPE) program to a standard of care (SOC) program on short-term and long-term pain, subjective function, patellofemoral pain recurrence rates, and secondary outcomes (hip abduction and extension rate of torque development and single-leg squat kinematics). We hypothesize that participants with patellofemoral pain who complete the STRIPE program will have 1) decreased pain, 2) improved subjective function, 3) reduced patellofemoral pain recurrence rates, 4a) improved hip abduction/extension rate of torque development, and 4b) decreased hip adduction and pelvic drop during a single leg squat compared to participants who complete a SOC rehabilitation program.
Inclusion Qualifications:
Participants to be between the ages of 18-40 years old
Insidious onset of symptoms greater than 3 months
Worst pain in the previous month of 3/10 with two of the following tasks: prolonged sitting, jumping, squatting, kneeling, running, and stair ambulation
Exclusion Qualifications:
You may not participate in this research opportunity if any of the following applies to you:
Other forms of anterior knee pain (Osgood-Schlatter, tendon pain, bursitis, etc.)
History of lower extremity surgery
History of patella subluxation, meniscal injury or ligamentous instability
History of referred pain from the lumbar spine
Participate in this Research
Submitting this form will put you in contact with the main point of contact for this project. They will provide more information and determine if you meet all of the qualifications needed.
Recruitment End Date:
June 30, 2024
Location:
Education Complex
4000 Central Florida Blvd
Room 174
Orlando, FL 32816
Time Commitment:
Number of visits: 24
Expected time per visit: 1 hours
Compensation:
Type: Up to $300 in Gift Cards
Point of Contact:
L. Colby Mangum
Associated Units:
Athletic Training
Health Sciences
Kinesiology
Physical Therapy
Exercise Physiology & Rehabilitation Science

Related Research Participation Opportunities