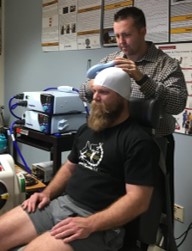 Kinesthetic mental imagery is a technique that has previously been utilized to modulate neural signaling to the limbs in the absence of any mechanical movement of the limb. Mental imagery and resistance training have both proven to provide a positive impact on muscle strength. However, the interplay between a mental imagery task and resistance training experience has yet to be fully investigated in terms of their impact on corticospinal excitability and inhibition. This study will utilize a brain stimulation technique, known as transcranial magnetic stimulation (TMS), to determine how resistance training experience and a mental imagery task impact corticospinal excitability in the hand and wrist.
Inclusion Qualifications:
Both men and women may participate
Aged 18-35 years
Participate in resistance training at least 3 times/week OR do not participate in any resistance training
Exclusion Qualifications:
You may not participate in this research opportunity if any of the following applies to you:
Do not meet the resistance training experience requirements of either group
Neuromuscular disease (e.g. Parkinson's, MS, ALS) or Metabolic disease (e.g. diabetes, thyroid disorder, metabolic syndrome)
Arthritis in the upper limbs (hands, arms, shoulders) or trouble using/controlling one's muscles
History of cancer, stroke, or heart attack
Use of an assistive walking device or other mobility aids
Physician mandated contraindication to exercise within the last 6 months
Epilepsy or history of convulsions/seizures, fainting, or syncope
History of head trauma that was diagnosed as concussion or was associated with loss of consciousness
History of hearing problems or tinnitus
Cochlear implants
Implanted metal in the brain, skull, or elsewhere in the body
Use of muscle relaxants or benzodiazepines
Allergy to rubbing alcohol
Any other health related illnesses that would prohibit a participant from physical performance testing
Lack of transportation to and from the laboratory
Participate in this Research
Submitting this form will put you in contact with the main point of contact for this project. They will provide more information and determine if you meet all of the qualifications needed.
Recruitment End Date:
September 21, 2022
Location:
UCF Partnership I Building
12354 Research Parkway
Room 221
Orlando, FL 32826
Time Commitment:
Number of visits: 2
Expected time per visit: 2 hours
Compensation:
Type: $20 Target gift card for completing
Point of Contact:
Ryan Girts
Associated Units:
Kinesiology
Physical Therapy
Exercise Physiology & Rehabilitation Science

Related Research Participation Opportunities