Institute of Exercise Physiology and Rehabilitation Science
UCF School of Kinesiology and Physical Therapy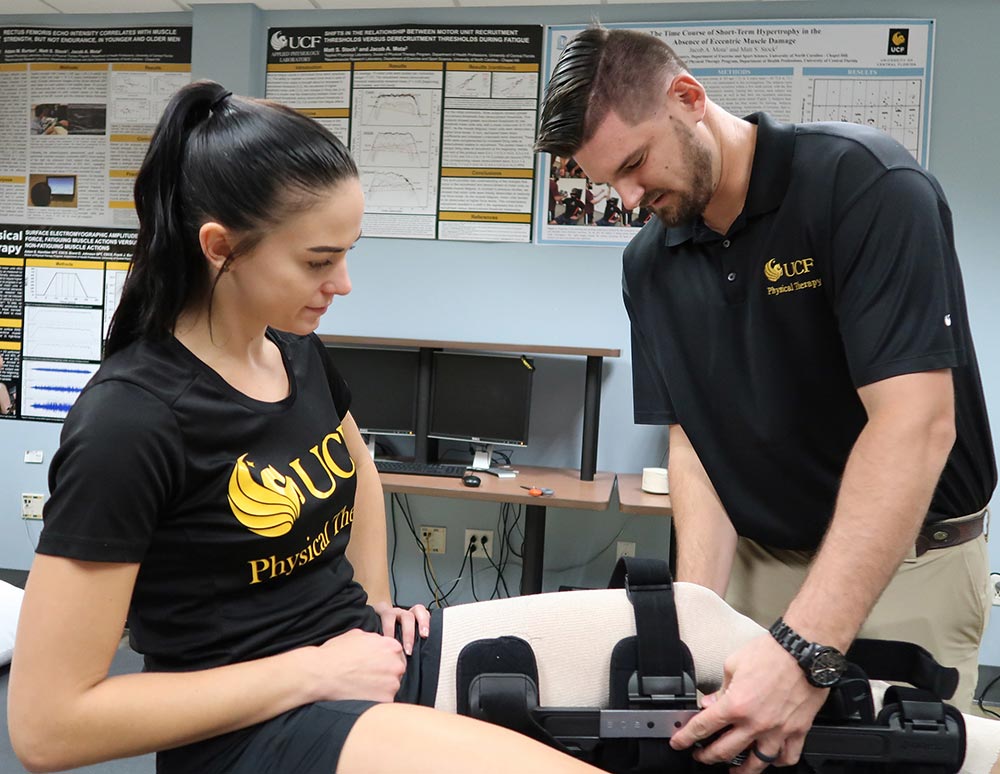 The institute proudly presents at the American College of Sports Medicine, National Strength and Conditioning Association, and Experimental Biology national conferences.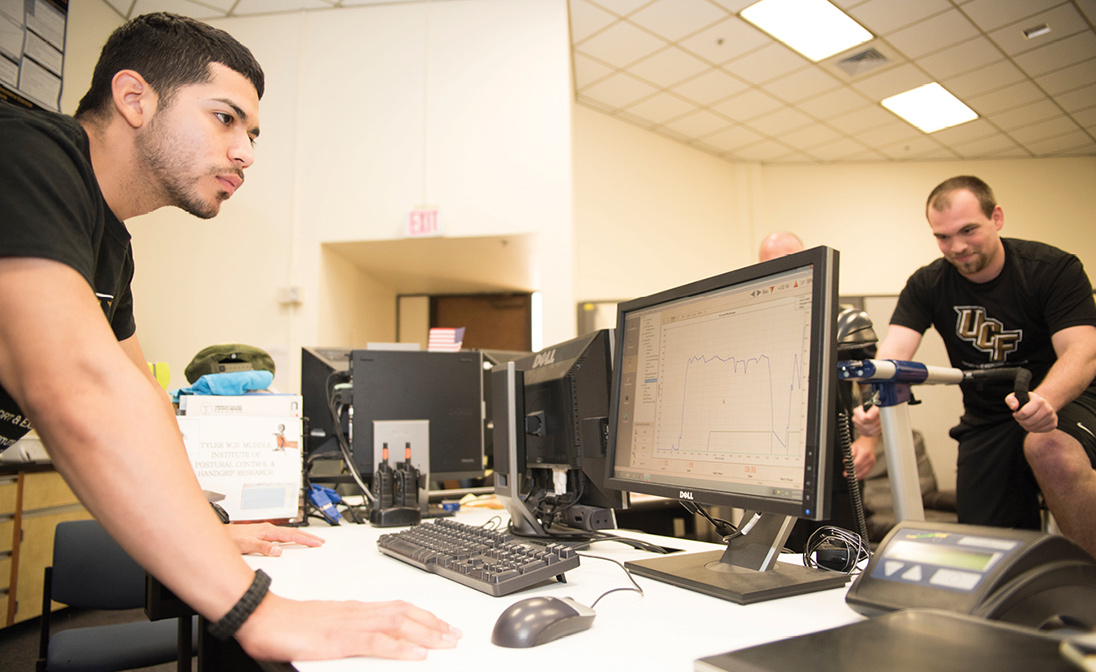 Although much of our laboratory work is dedicated to research studies, we welcome opportunities to validate findings or to collect data to assist teams or individuals.
Students frequently have an opportunity to expand their learning by actively participating in data collection ― a chance for them to apply what they learn through a textbook or lecture and take it to a new level.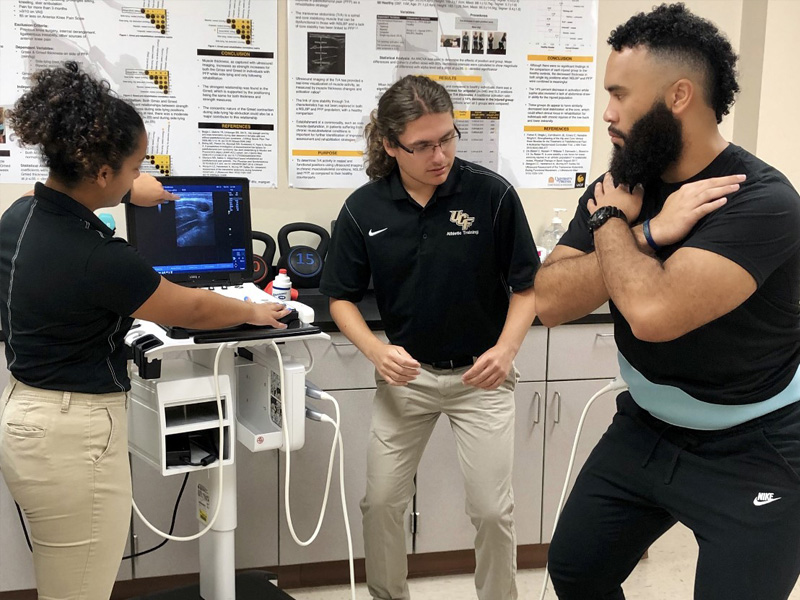 The Athletic Training (AT) Laboratory aims to advance neuromuscular assessment, musculoskeletal imaging, and rehabilitation methods for the lumbopelvic-hip complex, while improving the understanding and delivery of patient care for active individuals with chronic musculoskeletal injury. The AT Laboratory analyzes spatial, mechanical, and electrical changes in muscle activity during static, dynamic, and sport-specific tasks using innovative applications of ultrasound imaging and surface electromyography. The use of biofeedback programming for ultrasound imaging, electromyography, and inertial measurement units to improve patient rehabilitation and recovery is integral to the mission of the AT Laboratory. Chronic musculoskeletal injuries examined by the AT Laboratory investigators include: low back pain, patellofemoral pain, and a variety of other injuries involving the lumbopelvic-hip complex.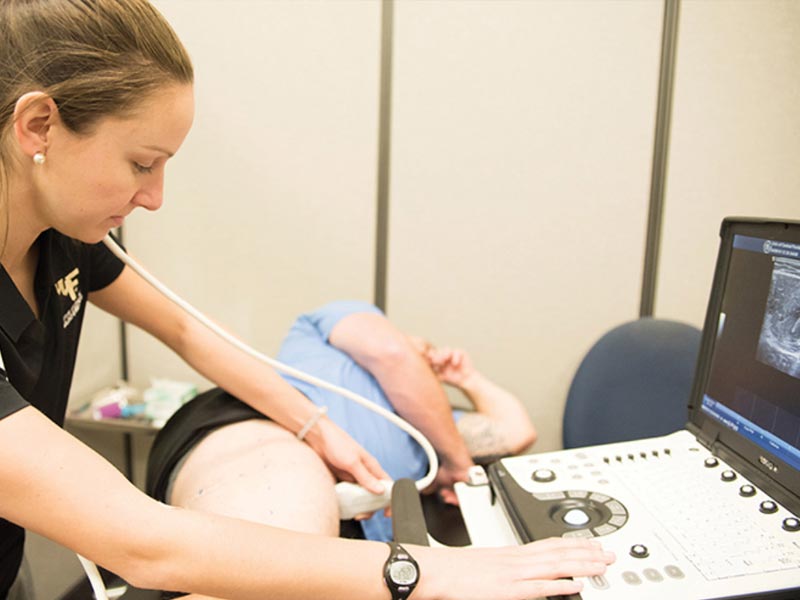 The Body Composition Lab includes both a dual-energy X-ray absorptiometry (DEXA) machine and an ultrasound machine. With these two devices, we can precisely assess physiological aspects such as body composition, arterial and venous flow rates, and muscular pennation angles. The technology expands our ability to conduct studies and data collection.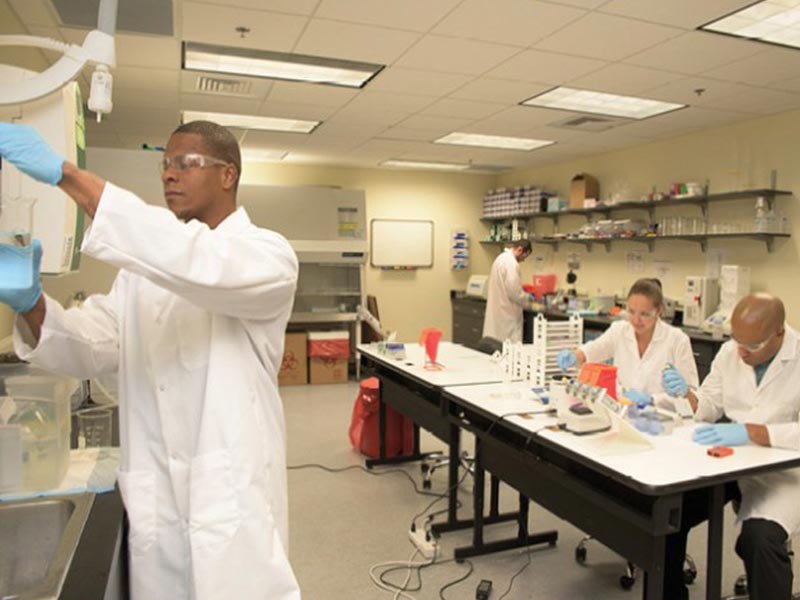 Exercise Biochemistry Lab
The 1,062-square-foot Exercise Biochemistry Laboratory enables faculty members and graduate students to examine the impact of exercise on biochemical, endocrine and immune function. Our lab includes the following devices: BioTek Eon microplate spectrophotometer, Luminex MagPix multiplex platform, BD Accuri flow cytometer, Beckham Coulter complete blood counter, Thermo Scientific Biofuge centrifuge, Bio-Rad microcentrifuge, Biorad microcentrifuge, Thermo Scientific ultralow freezer, Biotek ELx405 plate washer, Milli-Q deionized water system. In addition, we routinely measure complete electrolyte, plasma osmolality, lactate and glucose levels.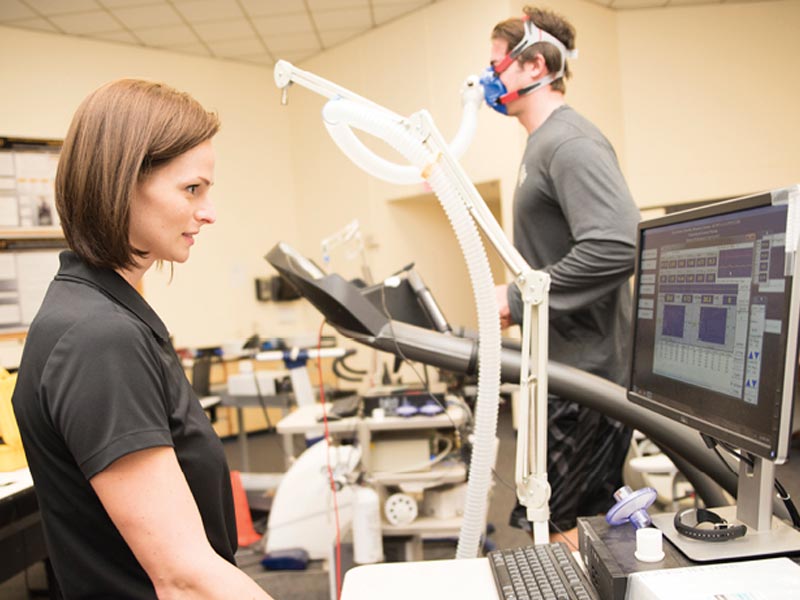 The Human Performance Lab is a state-of-the-art facility equipped with advanced technology that enables us to accurately assess an individual's physical performance. With equipment as varied as electromyography and Catapult Systems technology, we can collect data from elite athletes to the disabled elderly. We look to expand our knowledge of human physiology and how it relates to physical performance under varying circumstances. Moreover, we seek to contribute to the world of athletics and advance sound methods of improving human performance and activities of daily living.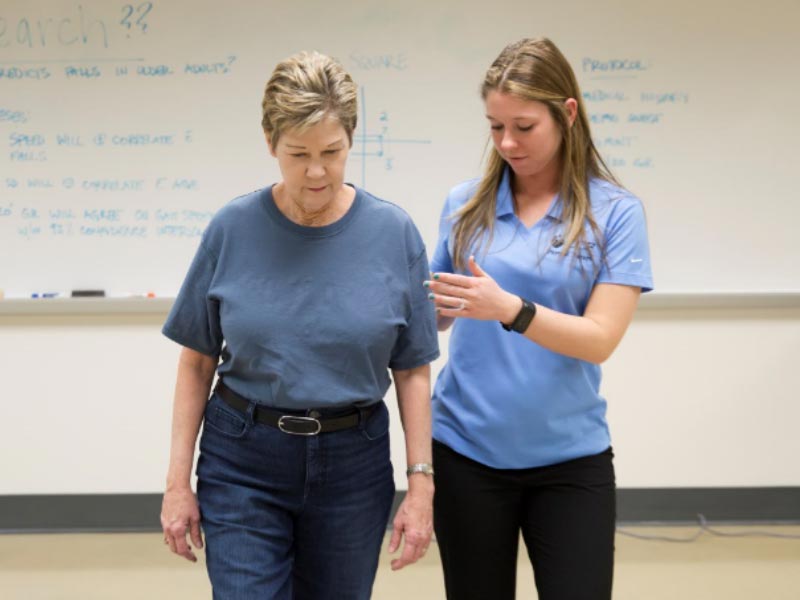 The Innovative Mobility Initiative (IMOVE) Lab has three primary aims, listed below.
To be the leader in providing clinical services to individuals with mobility impairments across the lifespan
To conduct cutting-edge research in order to inform evidence-based practice regarding balance and gait disorders
To cultivate community partnerships to facilitate active engagement in interprofessional education and service to Central Florida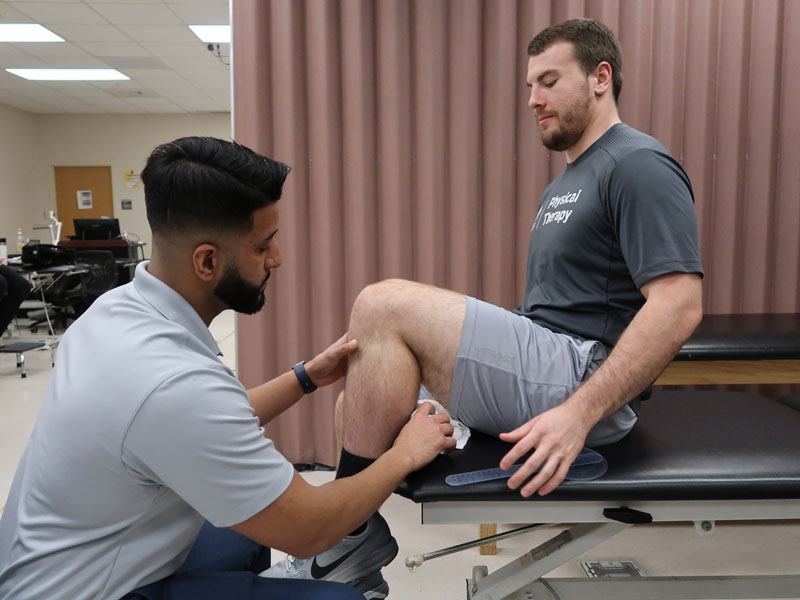 Musculoskeletal Research Laboratory
Through an interdisciplinary approach, the Musculoskeletal Research Laboratory focuses on clinically-relevant research that improves clinical outcomes and identifies the most accurate and efficient approach to treating various neuromusculoskeletal conditions. The lab serves as a site for research investigations to answer clinical questions and evaluate examination and treatment for musculoskeletal conditions.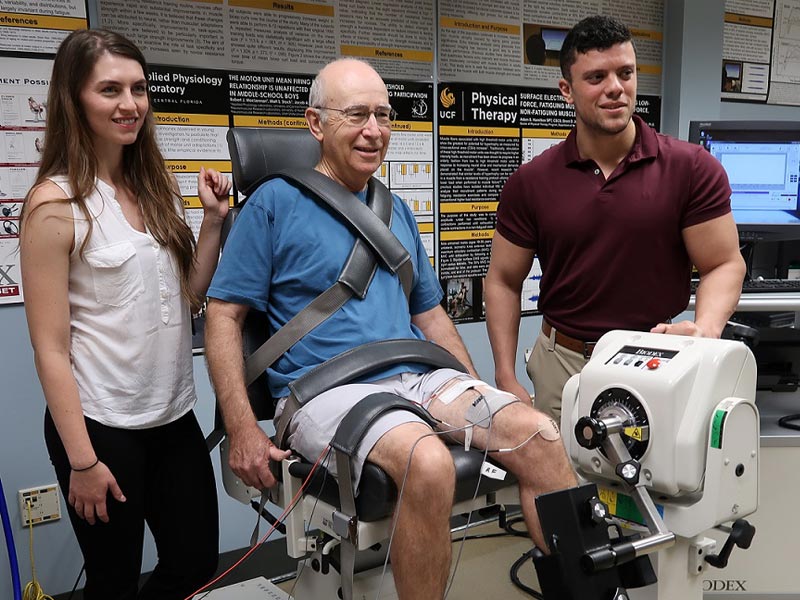 Neuromuscular Plasticity Lab
The Neuromuscular Plasticity Laboratory performs cutting-edge research to better understand the neuromuscular adaptations associated with strength training, muscle fatigue, aging and disuse. We strive to serve as a collaborative think tank for researchers and clinicians, and we seek partnerships and opportunities statewide, nationally and internationally. We want our laboratory concepts and findings to support or challenge existing protocols used to prevent disease and improve human performance.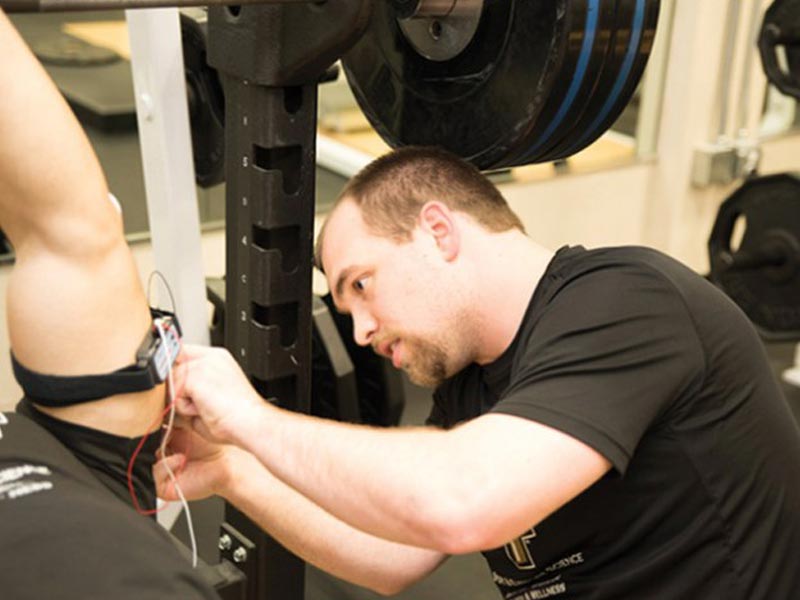 Strength and Conditioning Lab
The Strength and Conditioning Lab is a 2,450-square-foot facility designed for research and training in the strength and conditioning field. We conduct training studies for competitive, recreational and novice participants. Our equipment is as varied as Power Lift platforms and Tendo Units. The lab also includes cognitive function and reaction-time technology.
Our NeuroTracker and Dynavision testing devices allow faculty members and graduate students to examine tracking capability and visual reaction time. These cutting-edge devices provide for the latest in performance enhancement.
In addition to offering a complete training facility, the lab has tremendous assessment resources. The use of force plates, accelerometers, isokinetic devices and portable electromyography units allow for sensitive and sophisticated assessment protocols examining recovery and performance adaptation.