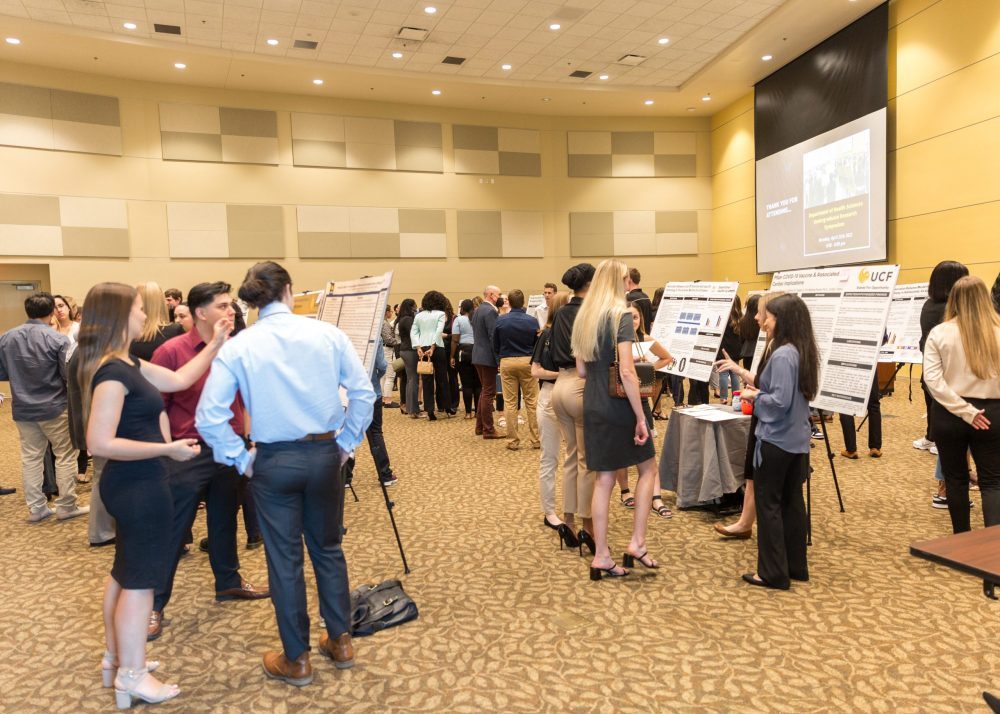 Students enrolled in HSC4730 Applied Health Research Methods presented their research proposals to faculty judges during the Department of Health Sciences Spring 2022 Research Symposium on April 25 at the UCF Morgridge International Reading Center. The group projects detailed a research question and study design focused on a specific health or wellness issue in the Central Florida area. 
The showcase, organized by health sciences faculty members Keith Brazendale, Michael Rovito and Jeanette Garcia, included a friendly competition where faculty judges spoke with students about their proposals and the impact the research can have on the community. The top three proposals were selected and received awards. 
Below are the Spring 2022 Research Symposium winners: 
Gold Winners 
Association Between Lack of Exercise and Use of Technology in the Summer Months for Children: Lizvette Alvarado, Sean Calamigan, Alma Dervisevic, Shakira Ferron, Daijhia Moore, Kaitlyn Townsend. 
Silver Winners 
Diet and Its Correlation to the Frequency of Preeclampsia in Pregnant Black Women: Anayia Cornileus, Angelique English, Xori Green, Karleria Izaguirre, Kaidi Lindo, Karrian Saunders 
Bronze Winners 
The Effects of Music Therapy on Socioemotional Development in Children with Autism Spectrum Disorder: Andre Naguib, Evan Loadholtz, Bryant Reeves, Leslie Malonado  
"We hope that this experience ignites a love and appreciation for scientific research in students," says Brazendale. "Understanding how research translates to impact in the community can foster new interest in students that leads them to careers they weren't aware of."