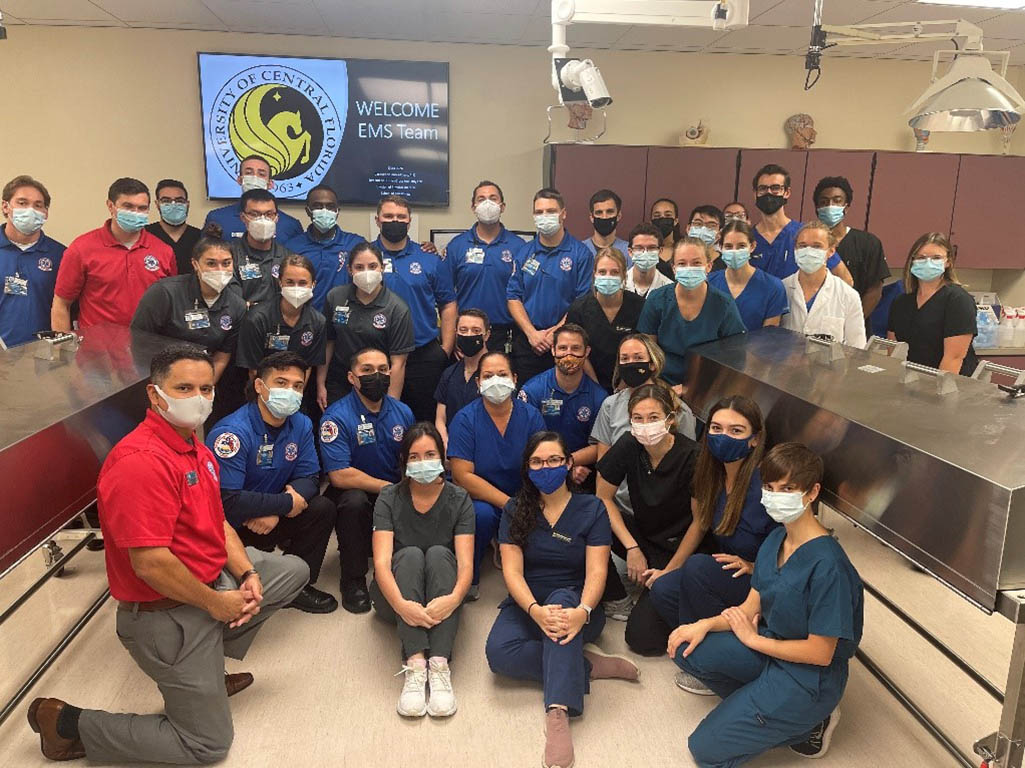 The Human Gross Anatomy (HGA) Laboratory, located on the second floor of HS I, has long been an integral part of clinical training for students in the Doctor of Physical Therapy program. Through outreach efforts, lab leaders are helping other learners in the community become better healthcare providers by inviting them to come take a closer look at the human body.  
The need to provide future healthcare professionals a hands-on experience of human anatomy is great. UCF recently expanded access to the learning opportunity provided in the anatomy lab by creating a course for undergraduate students. But with so few academic programs in Florida offering this curriculum, Jacqueline Flores-Otero, Clinical Associate Professor of Anatomy and the Director of the DPT-HGA lab, knew she had to open the lab doors to more learners to honor the wishes of those who willed their bodies to science. 
"Recently, we had undergraduate students from UCF's Undergraduate Physical Therapy Association and the School of Communication Sciences and Disorders (CSD) attend an information session with our physical therapy students," Flores-Otero says. "My students presented on the different structures and systems that comprise the human body and demonstrated to the CSD students the various parts of the head and neck to help them validate the different associations of the structures that they learn about in their coursework but don't ever get to see in real life." 
The special class session may be one of the most memorable experiences for the students.  
"These cadaver lab dissections are indispensable for understanding speech- and hearing-anatomy. Through these experiences, our students can visualize the relative size and orientation of structures and muscles in the human body," said Assistant Professor Lakshmi Sunil, whose CSD students benefited from the special session. 
Flores-Otero and the DPT students also recently hosted students from Hillsborough CommunityCollege's Emergency Medical Services program. The future paramedics receive education in advanced cardiac life support, endotracheal intubation, drug administration and EKG monitoring. "The program does not have its own Human Gross Anatomy lab, therefore this experience is crucial for these students who need to understand the prehospital setting of an emergency situation along with the anatomy and physiology that is affected by it", Flores-Otero says. 
But, by opening the lab for a special learning session for these students, the students can enrich their understanding of human anatomy and the critical thinking skills needed to provide medical services under pressure. 
Flores-Otero says the DPT students also benefit from being able to instruct other professionals about different anatomical structures and their functions – the old "see one, do one, teach one" method of learning.   
"Our physical therapy students spend more time studying the human body and its processes through human cadavers than any other student at UCF," Flores-Otero says. "They are thrilled to share their extensive knowledge with other UCF students and other learners in the community and by doing so, they become aware of their impact as future healthcare professionals."