Doctor of Physical Therapy (DPT)
UCF Division of Physical Therapy
The UCF Doctor of Physical Therapy Program educates students to become competent, compassionate and ethical practitioners in a variety of healthcare settings. Graduates will be highly dedicated professionals with excellent patient care, communication, critical thinking, patient education and advocacy, management and research skills.
The full-time professional doctoral program requires completion of 112 credits beyond the bachelor's degree. Coursework is taken in a prescribed sequence over nine semesters. The program requires a total of 34 weeks of full-time clinical training in which students work under the direct supervision of a licensed physical therapist at affiliated clinical education facilities.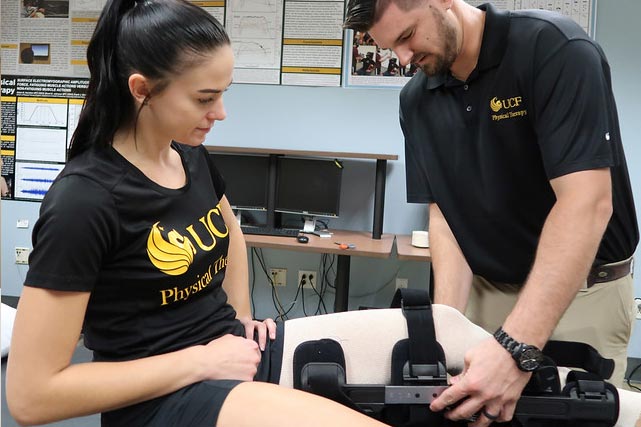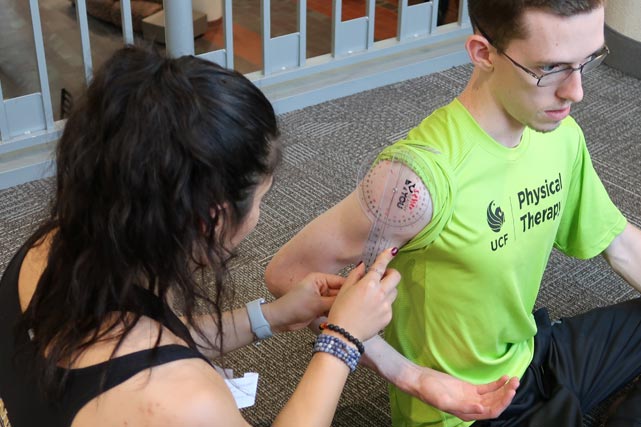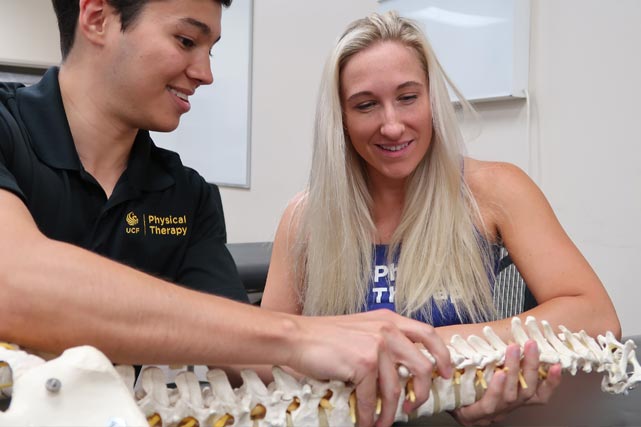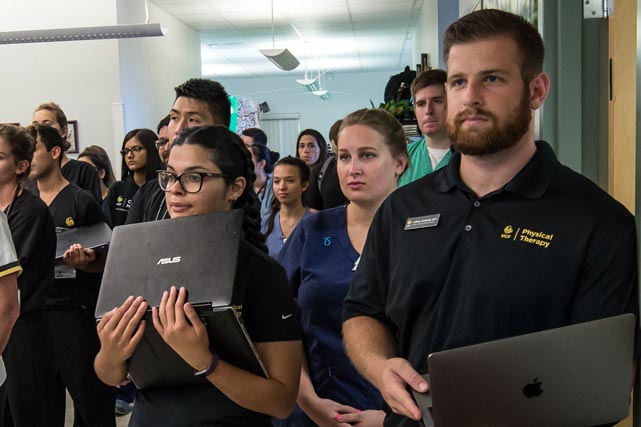 The mission of the University of Central Florida's Doctor of Physical Therapy Program is to cultivate excellence in physical therapist practice through comprehensive and focused doctoral education. The program fosters excellence through its dedication to foundational sciences, clinical skill proficiency, research and evidence-based practice, service and professional duty, and lifelong learning. The program is committed to the development and strengthening of the healthcare community in order to optimize patient care in the dynamic healthcare environment.
The Doctor of Physical Therapy Program at the University of Central Florida will be distinguished for:
Its breadth, depth and collaborative approach to physical therapist education
Clinical excellence and advancement of clinical practice
Scholarly achievements and professional recognition of students, faculty and clinical partners
Dedication to the health and well-being of the Central Florida community
Professional commitment and advocacy
Cultivation of professional development to advance the practice of physical therapy
Licensure Pass Rate
In the 10-year history of the UCF DPT program, all graduating students (100 percent) have passed the national licensure examination (Class of 2010 thru Class of 2019). Please see the Federation of State Boards of Physical Therapy for further details.
Licensure Exam Trends
In the 10-year history of the UCF DPT program, six (6) of the ten (10) graduating classes have achieved 100 percent first-attempt pass rate on the National Physical Therapy Examination. This has included four of the last five cohorts, with the most recent cohort (2019) achieving 100% first attempt pass rate.
Since its first cohort at the doctoral level in 2010, the UCF Doctor of Physical Therapy Program's licensure pass rates and test scores have exceeded the averages of both the state of Florida and the country every year. UCF DPT first attempt pass rates average 7.0% greater than the state of FL average, and 7.4% greater than the national average over the last ten years. In addition, over the last ten years, UCF DPT graduates have averaged greater than 29 points higher than graduates from other programs in the country on the licensure exam scores. Within the last five years, this figure has jumped to approximately 35 points greater than the national averages.
Based on the two-year pass rate ranking by the Federation of State Boards of Physical Therapy, the UCF DPT Program is within the top 10% of programs nationally.
Summary Performance for the School by Graduation Year
Summary Performance for All U.S.-Accredited Candidates by Graduation Year
Graduation Year
Group
Number of Candidates
Number of Passing Candidates
Pass Rate
Mean Scale Score
Confidence Interval of the Mean
Pass Rate
Mean Scale Score
Standard Deviation Scale Score
2019
First Time
36
36
100.0%
709.7
8.9
91.0%
670.7
54.9
Ultimate
36
36
100.0%
709.7
8.9
95.9%
673.9
51.0
2018
First Time
34
33
97.1%
714.9
9.9
90.9%
671.2
54.2
Ultimate
34
34
100.0%
716.3
9.5
98.6%
676.0
47..8
2017
First Time
32
32
100.0%
725.2
10.0
92.5%
678.5
55.2
Ultimate
32
32
100.0%
725.2
10.0
99.2%
682.6
49.3
Employment Rate
All graduating students (100 percent) of the classes of 2017, 2018 and 2019 were employed within six months after passing the licensure examination.
Graduation Rate
The average graduation rate of D.P.T. students who began the program as members of the classes of 2017, 2018 and 2019 is 94 percent.
The UCF Doctor of Physical Therapy Program, due to its professional accreditation by the Commission on Accreditation in Physical Therapy Education (CAPTE), meets the educational eligibility criteria for licensure as a physical therapist in any state in the United States. If needing to contact the program/institution directly, please call 407-823-3462 or email ptinfo@ucf.edu.
Additional requirements for licensure in all states include passage of the National Physical Therapy Examination administrated by the Federation of State Boards of Physical Therapy (FSBPT). Also, additional requirements can vary by state. Often, states require the administrator for the CAPTE-accredited program from which a student graduates to certify the student's successful completion of that program.
Depending upon the state, candidates for licensure may also be required to demonstrate successful completion of the state jurisdiction's juris prudence examination. The FSBPT provides information on requirements to practice as a physical therapist in each state and includes direct contact information for each licensing jurisdiction and their legislative policies.
UCF is committed to the ideal that professional education requires a sound academic preparation that is enhanced and enriched by strong clinical experience. To this end, UCF's DPT clinical education program seeks to provide for its students those clinical experiences that offer a stimulating environment to further augment their professional development.
UCF's DPT clinical education program consists of 34 weeks of full-time clinical internships.The primary focus of the clinical education program is to provide students with a learning atmosphere that promotes the health and function of patients/clients. Students learn how to promote the maximum level of function through scientific principles and treatment rationales. While problem solving often follows logical predetermined steps, students must learn that many solutions are created by innovative, abstract thought processes. The excitement of research and discovery is nurtured.
The students' goal in clinical education must be the achievement of the highest level of competency in all areas of patient care and related areas of physical therapy. Students are expected to actively participate, question, explore, teach and motivate during their interaction with the clinical community to reinforce their learning experiences and thereby enhance their education.
The clinical environment stimulates the student to look beyond information learned in the classroom to discover new meanings and relationships within the profession. The clinical centers also must create learning situations that guide students to expand their knowledge and skills and rethink attitudes. The clinical centers increase students' awareness of personal responsibility as it impacts their clients and institutions. They also include exposure to realistic environments that allow practice in interdisciplinary communication, documentation, problem solving, and medical and legal aspects of patient care with a variety of disabilities and ages.
UCF's DPT program has more than 600 affiliated clinical education facilities throughout the United States in various practice settings, including acute care hospitals, sports medicine facilities, pediatric facilities, neurologic rehabilitation units, and veteran/military hospitals.
The program takes great pride in both the diversity of clinical experiences it offers in practice setting and geographic location AND the training and expertise of the clinical instructors of affiliated institutions. Clinical instructors are encouraged and driven to pursue careers of lifelong learning both in clinical education instruction and advanced education in their specific practice areas.